September 3, 2013 - 5:22pm
Convicted of sexual abuse, South Byron man maintains his innocence at sentencing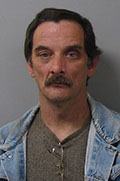 A 47-year-old South Byron man continued to proclaim his innocence on sexual abuse charges today right up until moments before Judge Robert C. Noonan sent him to state prison for four years.
John Chrisley, of Mechanic Street, was convicted following a jury trial in July of sexually molesting a young child.
The mother of the child spoke in court today saying that Chrisley used offers of auto repair services to befriend her family and gain access to her young daughter.
"I've been haunted by this baseless allegation since this started," Chrisley told Noonan. "Her statements are 100-percent false."
Chrisley said that the child's mother has also accused him of violating orders of protection and of smoking and dealing marijuana. He said he submitted to a drug test that came out negative.
"I didn't break the order of protection," Chrisley said. "I didn't deal marijuana. I didn't smoke marijuana. I didn't molest that little girl. I don't know why she's accusing me of those things. ... I think the jury judged me not on the law but on emotions."
He vowed that his case would be overturned on appeal.
Noonan said it isn't his role at this point in proceedings to decide whether Chrisley's conviction was proper. His job simply was to sentence him. But he indicated he found the evidence that came out at trial against Chrisley pretty compelling.
"I don't accept your conclusion, your statement that you've been subjected to some sort of torture from baseless allegations," Noonan said. "I heard all of the testimony at the trial and while it wasn't my job to determine if you were guilty, because that's for the jury to decide, it's hard to believe that you were convicted on anything other than the evidence at the trial. There was no emotional display from the jury. They appeared to make a decision by objectively weighing the evidence that was presented at trial."
The mother of the victim said her child now has trust issues, fears men -- even her own father when he tickles her -- and has anger control issues.
She said he could never forgive him for what he did, accusing him of seeing no wrong in harming innocent children.
"If it were up to me, you would be in prison for the rest of your life and then, and only then, would it be a guarantee that you would never touch another child again," she said.
September 3, 2013 - 11:42pm
#1
Disgusting. Should be put away for longer than four years.
September 4, 2013 - 4:15am
#2
The prisons are filled with so call innocent people.....NOT.