March 11, 2014 - 2:07pm
Donated buildings in the city provide invaluable training resource for fire department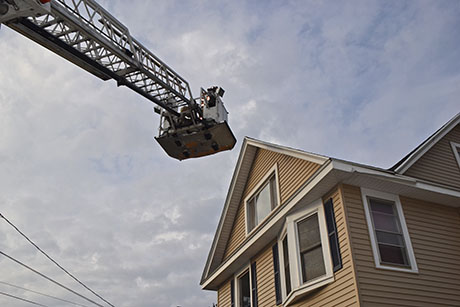 The chance for city firefighters to train and practice in an actual structure in the city is invaluable to the department, Chief Jim Maxwell said today while discussing an opportunity to use to houses on West Main Street this week.
Since the houses are slated for demolition, firefighters can cut, chop and smoke up the place ("cold smoke," as it's called, since it's not heat generated).
"From the new firefighter to the 20-year veteran, it's very valuable," Maxwell said. "It's a controlled situation, but they get to go in and practice what they would do in a normal fire."
The houses are being provided to the department for training by the owners of Castilone Chrysler, Steve Castilone and Greg Strauss, and are located at 310 and 312 W. Main St., Batavia.
Castilone and Strauss are expanding their dealership (rather than move it out of the city) and they acquired the neighboring properties for that purpose.
Maxwell said having structures in the city for training really cuts down on overtime. Rather than requiring firefighters to come in during typical off-duty hours and train at the Fire Training Center on Bank Street Road, on-duty firefighters can train in the city so they're still available for calls as needed.
"We're able to get all of the platoons through without getting into an overtime situation, so it's very valuable to use," Maxwell said.
Training includes ventilation (cutting holes in the roofs), search and rescue (artificial smoke is generated). There will be more training over the next few days, weather permitting, and it will be squeezed in with hazmat training taking place this week at the fire station.
There won't, however, be any live fire training at the two houses, Maxwell said. It's just too risky to do in the city.
Photos submitted by Frank Capuano