March 13, 2014 - 5:44pm
Downtown businesses that keep their sidewalks clear get a little recognition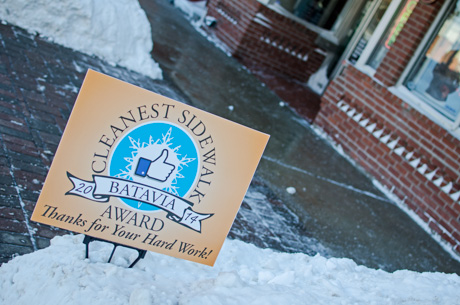 A few of these signs popped up along downtown streets today. A couple of the business owners who found them in front of their store fronts this morning didn't know who put them out.
They hare the handiwork of Brian Kemp, of T-Shirts Etc.
Kemp took on the project himself -- not through the BID or Vibrant Batavia -- because he thinks local business owners should be encouraged to keep the sidewalks in front of their establishments. The ones who do so should be rewarded.
"They don't realize you've got to be able to see the cement," Kemp said.
He only made a few signs, so he'll rotate them around tomorrow, making sure businesses that haven't received the recognition yet, but deserve it, will.
Bottom photo submitted by Jessica Budzinack. She wrote, "My husband Christopher Budzinack works at The City Church. He was so happy his hard work was recognized during this rough winter.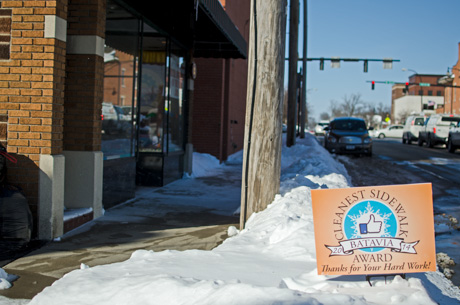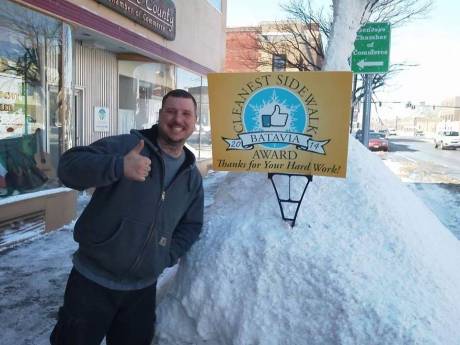 March 13, 2014 - 10:29pm
#1
March 14, 2014 - 5:26pm
#2
I talked with Brian and he said to me "I wonder why Howard didn't mention my lovely wife Beth? I told him she was the brains behind the whole thing. Howard could you please add Beth's name next time like Brian asked….. jeeseee.