January 23, 2013 - 10:07am
Driver allegedly driving too fast for conditions, causing minor injury accident
A driver may have been going to fast for conditions at 8 p.m., Tuesday, when she apparently lost control of her car on Ledge Road in Alabama, causing a minor injury accident.
Cited for allegedly driving at a speed not reasonable or prudent was 20-year-old Jessica Metzler, of Portland.
Metzler was southbound on Reuben Road when she lost control of a 2010 Chevy sedan owned by Lauren Reinhardt, of Farmington. She drove off the left shoulder of Ledge Road, came back onto the roadway, drove off the south shoulder again, went back onto the roadway and into the westbound lane of Ledge Road and exited the north shoulder, hitting a sign post and then a large rock.
Reinhardt, 22, suffered a minor injury but did not require transportation to a hospital.
The accident was investigated by Deputy Tim Wescott.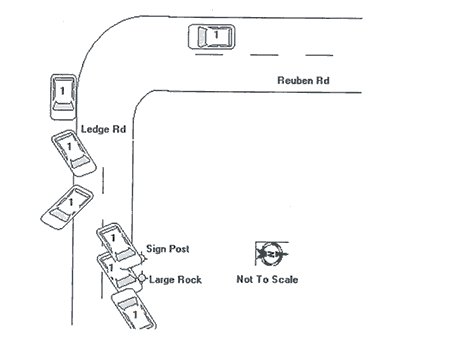 Police accident report sketch.