March 4, 2014 - 10:12am
Driver involved in accident said he was rubbing something from his eye, didn't see other car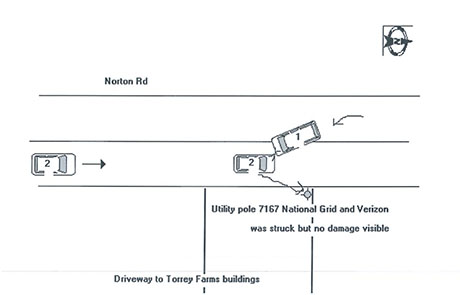 A driver involved in a two-car accident on Norton Road yesterday said he was had something in his left eye and was rubbing it while making a left-hand turn. As a result, he said, he never saw the car that hit his.
The other driver was taken to ECMC by Mercy Flight, were she was treated in the emergency room and released.
James J. Heschke, 60, of East Pembroke, was driving a 1998 Ford SUV south on Norton Road at 1:29 p.m. when he made a left-hand turn onto property owned by Torrey Farms at 7170 Norton Road.
At that point, he said, he had something in his left eye.
Amanda C. Demare, 19, of Barrville Road, Elba, was driving a 2000 Subaru SUV north on Norton Road.
Heschke said he never saw Demare's vehicle until they hit.
Demare's SUV was pushed into a utility pole off the east shoulder of the road. A telephone wire came down, but the pole appeared undamaged, according to the accident report.
Heschke received a citation for alleged failure to yield right of way.
Elba fire and Mercy EMS responded to the scene.
The accident was investigated by Deputy Brian Thompson.
Illustration: Diagram from accident report.