April 11, 2014 - 11:00am
Federal agents search home on Jackson Street after alleged bail violation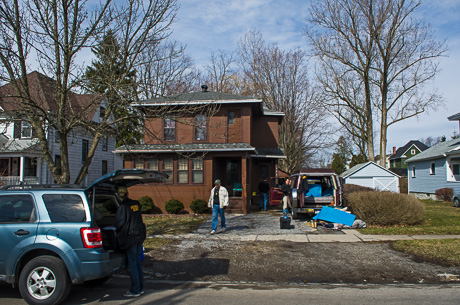 Federal agents, including ATF agents, showed up at a residence on Jackson Street, Batavia, this morning to execute a search warrant.
An agent said the residence, 152 Jackson St., is the home of James D. Holstein, who is under federal indictment and out on bail. He's accused of violating the terms of his release, leading to the search this morning.
The indictment, according to the agent, is related to an arrest by State Police reported by The Batavian in 2010. We've requested a copy of the indictment from the office of William Hochul, U.S. Attorney for WNY.
UPDATE: Holstein is facing a three-count federal indictment issued by a federal grand jury Oct. 3, 2013. The counts are aiding and abetting wire fraud, money laundering and making a false statement. 
It's alleged that between Jan. 2006 and Jan. 2012, Holstein would agree to purchase items from online sellers and then issue the sellers counterfeit checks for amounts greater than the purchase price. Holstein allegedly asked the sellers to wire back the balance of the overpayment. After wiring the money order, the sellers would learn the deposited check was counterfeit and the amount of the check would be charged against their bank account.
Holstein then allegedly kept a portion of the overage for himself and wired the balance to unknown persons throughout the world by way of Western Union and MoneyGram.
Once Holstein was informed by Western Union in January 2009 that he was engaged in fraudulent activity, and then advised again by local law enforcement in April and June 2010, Holstein allegedly continued to wire money to people in Ghana, Nigeria and Great Britain.
For those transactions, Holstein allegedly used the name of his son.
The indictment lists three domestic victims: J.S., a resident of Golden, Colo., $2,910; V.K., a resident of Greenwood, S.C., $2,370; and, A.H., a resident of Elkhart Lake, Wis., $1,500.
The indictment lists nearly 60 transactions in amounts ranging from $40 to $300 to people in Ghana, Nigeria and Great Britain.
Holstein is accused of using these transactions for the purpose of money laundering.
He is also accused of making a false statement to a federal agent. He allegedly told the agent in 2010 that he had stopped wiring money to a woman in Lagos Island, Nigeria, when in fact he continued to wire money to her.