April 24, 2013 - 11:50pm
For five generations, farming has been all in the family for the Posts of Elba
Note: This is intended to be the first in a series of stories we'll do this spring and summer on the farms and farmers of Genesee County.
People worry about family farmers, but for the Posts of Elba, they're doing just fine.
With Jeff Post as a fifth-generation farmer, sharing ownership with his father, Dan, and uncle, John, Post Farms continues to grow, innovate and prosper.
"I think it's very impressive that our family has been farming as long as it has and stayed in business that long and been successful that long," Jeff said. "I take a lot of pride in being the fifth generation. I go to meetings and I hear guys say, 'I'm third generation,' and I think, 'that's nothing.' "
Jeff's great-great-grandfather bought the 100 acres that became Post Farms in 1890. There was a barn, a house and some cows to start with, and each generation has added on.
Today, Post Farms is a modern dairy with 350 cows and a robotic milking parlor that keeps milk flowing daily to the Upstate Farms Cooperative.
To support the dairy operation, the Posts manage 750 acres (some of it leased) and grow oats, wheat, corn, alfalfa and a hybrid grain known as triticale, primarily as feed for the cattle.
The day we visited, Dan Post and his dad, Ken, where prepping fields and sowing seeds for oats. John said the goal is to get the oats harvested this year in time to sow green beans, which will be sold later in the year for canning.
With Jeff's aunt, Laurie, also working on the farm -- there are also two hired hands -- the Posts have pretty much kept farming all in the family.
Dan said when Jeff was in high school, there was little indication he would want to be a farmer.
"He never seemed that interested and I never pushed him," Dan said. "In high school he was talking about going into the landscaping business, but when it came time to go to college, he said he was going to study ag and I was pleasantly surprised."
Jeff got his degree in animal science from Cornell in 2001 and then spent the next eight years working on other farms, learning the business.
By 2008, the family wanted him back on the Post Farms and so he returned home and now, at age 34, is herd manager. John, 61, handles crops and Dan, 60, and Ken work the fields. Laurie takes care of the calves.
Ken, at 86, said he still likes to be outside on a tractor, working.
"I'll probably never stop until I have to," Ken said. "I have to keep doing something. I can't just sit around doing nothing."
There isn't much time for doing nothing on Post Farms and Jeff said there is nothing written in stone about the division of labor.
"We all have to do a little of everything because there aren't that many of us," Jeff said.
Officially, the farm is owned by Jeff, Dan and John.
The last big expansion of the farm came in 1987, when Post Farms went from 180 cows to 230. It's grown slowly since then to 240 to 250 range.
In 2010, the Posts built a new milking parlor that features four robotic milking stalls.
Cows in the robot barn are milked three times a day with very little farmer intervention.
Because the feed in the the stalls don't have all the nutrients the cows need, the cows instinctively and by habit seek out the more nutritious feed in the milking stalls. 
A cow walks into the stall, the robot reads the cow's ID number to ensure it's time for it to be milked, and then a laser guides the milking apparatus to the utters. While the cow is milked, it munches on some tasty and nutrious feed.
"It's really being fed, and we're just milking it at the same time," Jeff said.
Only occasionally does a person need to come in and ease a cow into line to be milked. The cows pretty much take care of getting themselves fed and milked.
It's notable how friendly and curious Post cows are. Rather than shy away from a stranger with a camera, they try to move in closer for a better look.
Jeff thinks that's because with their milking operation there aren't people constantly pushing them around to go here or there.
Laurie thinks it's because Post cows get a lot of human interaction. They're just used to being around people.
From birth, the cows are kept in a nursery rather than individual outdoor shelters and are visited regularly by Laurie and other members of the family to make sure they're drinking their milk and are generally in good health (milk is dispensed for the calves from boxes with nipples in each of the nursery's stalls).
Besides providing the cows with a seemingly less stressful living environment, the robotic barn has helped the Posts keep to a minimum the number of hired hands the farm needs, Jeff said.
While more employees means more expense and more managerial headaches, a bigger issue, Jeff said, is immigration.
Jeff is currently president for the Genesee County Farm Bureau and immigration is a big issue for all farmers he said.
"You really never really know where your labor is going to come from," he said.
As Farm Bureau president, Jeff said the other big issues farmers face is the encroachment of development.
Housing is replacing more and more farms, and people moving closer to farms is creating its own set of issues.
"That's one of the biggest problems," Jeff said. "There's more people living in the country, and there's more people living in the country who didn't grow up around the sights and sounds and smells of farming."
Jeff doesn't expect New York's booming yogurt industry to have that big of an impact on dairy farms. The price of milk is heavily regulated and there are a lot of hurdles for dairy farmers to clear to increase production.
There's an assumption in media reports that changes in federal regulations will make it easier for dairy farmers to increase the size of their herds, but the fact is, Jeff said, there are 100 other other considerations involved in herd size.
The regulation change, he said, really just highlights the arbitrary nature of the regulation. The regulation is known as CAFO (Concentrated Animal Feeding Operation). Strict and expensive CAFO requirements used to kick in at 200 animals, but to help dairy farmers during the yogurt boom, the limit was raised to 300 head of cattle.
"Personally," Jeff said, "I think that the whole thing is wrong. The government is basically saying it's an arbitrary number because they can change it at will. They said they think farmers should grow, so we're going to move back the number. That number doesn't mean anything. The whole thing, for lack of a better term, is a government shake down. Not every farmer that runs a small farm that is not meeting CAFO is going to go out and add another 100 cows because there are another 100 factors that play into (adding more cows)."
One of the biggest events in the history of Post Farms was a fire in August 2011 that destroyed the barn that was on the property when Jeff's great-great-grandfather purchased it in 1890.
Losing that barn was emotionally upsetting for the family, both Jeff and John said, but it's actually helped improve operations on the farm.
"You hate to see an old barn go because of tradition and all that, but the new barns serve us better," John said.
Jeff agreed, but he liked that old barn.
"You want to think of the family farm, driving up and seeing that barn," Jeff said. "That is the vision all of us have of this farm -- seeing that barn there because that is what people think of when they think of a family farm, that kind of barn sitting there."
The barn is gone, but it the new barn helps symbolize the progress and growth of Post Farms, Jeff said. The Posts are never afraid to try new things, even something Ken Post confirmed.
"We're not stuck in the old ways," Jeff said. "We're doing things that are efficient for us and make for a good life, a happy life."
Top Photo: Front row, Dan, John and Ken; and, Laurie and Jeff.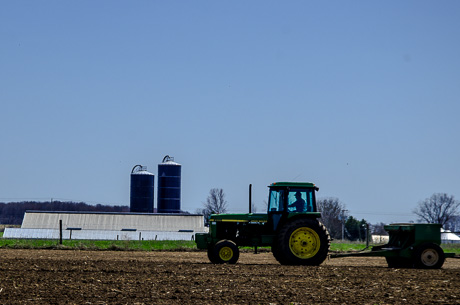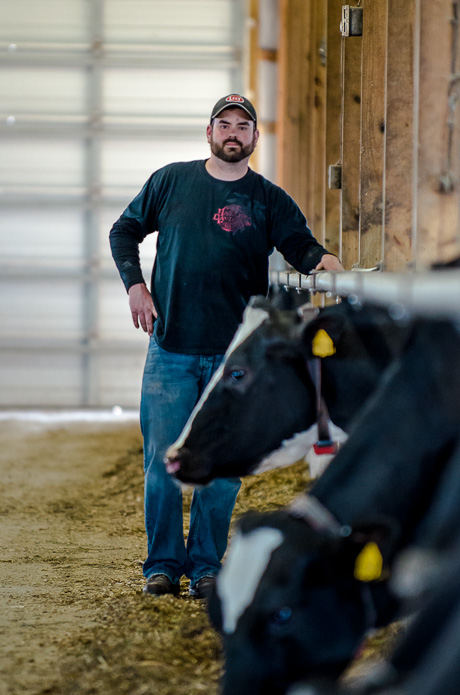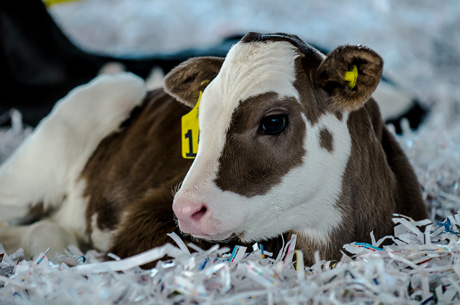 April 25, 2013 - 9:21am
#1