June 27, 2014 - 7:07pm
Flowers by Dick Burton closing its doors for the last time Monday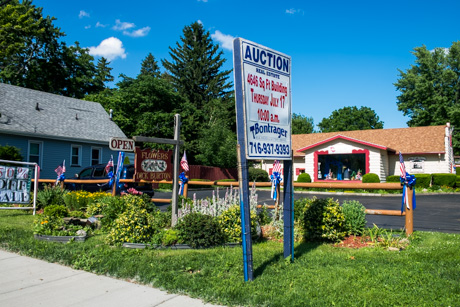 One of Batavia's venerable businesses, Flowers by Dick Burton, is closing its doors the final time Monday evening.
The roots of the business are in Oakfield, growing out of greenhouses owned by Irving Bates and Benjamin Harrison, who opened a flower shop in Batavia sometime in the 1940s.
Eventually, Dick and Mary Burton bought the shop and after operating on Main Street for some time, moved it to Cedar Street.
John and Shelia Hamel purchased the business -- and kept the name -- 34 years ago.
Even though the Hamels have built up a customer database of 21,000 people (including customers in seven other nations), it's become too difficult to compete against Internet businesses, Hamel said.
"Yes, we have local competition, but our main competition is the Internet," John said. "These 1-800, Procom, Just Flowers, all these things -- I just urge our customers and anybody, do not use them because you get taken. You don't get the quality they expect here or any flower shop."
Hamel said customers have compared his prices to Internet prices and complained, but people don't realize the quality just isn't the same. The flowers aren't prepared properly and can even arrived dried out, and shipping costs often exceed the cost of the flowers.
Hamel said he isn't sure what's next for him and his wife. Shelia can still work in the flower industry if she wants. She's a certified master designer who got a near perfect score when she tested for the certification. She was Florist of the Year in 2002, named by the now defunct Floral Association of Greater Rochester.
Flowers by Dick Burton was Genesee County's Retail Business of the Year in 1994. The business as also won numerous awards from FTD and other trade organizations.
Hamel said there are so many people to thank for all the years of support of the business that he can't possibly name them all -- all of the customers, most of all.
He in recent years it's been a treat to do the flowers for brides whose mothers first came to them for their weddings in the 1980s and 1990s.
He said he especially wanted to thank the shop's longtime employees, Barb Spring, Charlie Augrom, Linda Luthart, Sally Case and Lori Mosier.
Through Monday, everything in the shop is half off. On July 9 and 10, the shop will be open for other florists to come in and buy fixtures and cases. The property will be auctioned off July 17.
"We really don't know what we're going to do after that," Hamel said. "We're letting our faith take us at that point."
June 27, 2014 - 7:40pm
#1
On the occasions that I've sent flowers or picked them up, the Hamel's product, attention to detail, and service has been nothing short of stellar.
This is yet another example of people trying to save a buck by taking their business online or to the big boxes. The risks of doing so are numerous. Service after the sale is almost non-existent, return shipping charges if it's not exactly what you thought it was, finding parts down the road, and the loss of the personal touch are huge.
Buy local. Stimulate the economy and feel good about your purchase.