August 30, 2014 - 11:30am
Football Preview: Alexander counting on team speed to make them a contender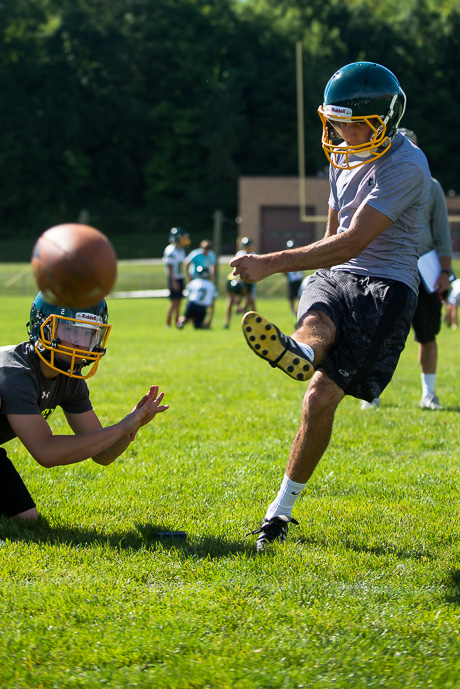 With only one winning record in the previous six seasons, it's tempting to think of last year's 7-1 record and a three-way share of the Genesee Region League title was a bit of a fluke.
After all, in the previous two years the Trojans were 2-6 and 2-5.
Head Coach Tim Sawyer doesn't mind folks around the league thinking that way. After all, they might just be in for a surprise.
"We've had a good camp," Sawyer said. "We've had excellent attendance. They want to be good. It's a new team, but the same goal. Let's see if we can be GR champs. We've got to be perfect six, eight nights to do it, but we've got a chance."
Last year, the Trojans were big and physical. A year ago, Sawyer noted how several of his players hit the weight room hard during the off season. That training paid off.
There was no better proof of that than the season put together by Dylan Scharlau, with 1,663 yards rushing and 19 TDs.
But Scharlau graduated. So did his big offensive line and a strong, rugged QB in Nelson Burke.
At every position, the Trojans are smaller.
But they're also faster, Sawyer said.
Speed will change the nature of the offensive attack and Alexander might rely more on big plays.
Junior Jerad Brown will start at QB and he's got a great instinct for the game, Sawyer said.
Sharing the backfield will be a committee of backs, Sawyer said.
"Scharlau averaged about 27, 28 carries a game," Sawyer said. "We probably won't see that this year. We'll probably see a bunch of boys eight to 12, maybe 15 carries in a game, which I like, because all those boys will turn around and play defense."
Leading the defense will be Ty Laird, a returning starter, and a player Sawyer says is "probably the best football player in GR."
"He's crazy strong and he's running a 4.7 40," Sawyer said.
Perhaps the most interesting player on the squad is Zach Shilvock, a soccer player who last year chose tennis over football, so didn't kick for the Trojans until the last few games of the season (after tennis was over).
Shilvock gives Sawyer a weapon not to many high school coaches ever get to use -- a kicker who can put it through the uprights from as far as 45 yards out.
"I've seen him make 50s," Sawyer said.
Special teams overall could make the difference for Alexander, Sawyer said.  
"We hope that can help us get through some close games," Sawyer said.
It should be an interesting season for green and gold.
"I know people on the outside just glimpsing in think this will be a down year a little bit," Sawyer said. "Obviously, you can look and see, we don't have the size, but we've got some kids who can play."