August 19, 2014 - 5:22pm
Football Preview: Blue Devils hunting more Ws in 2014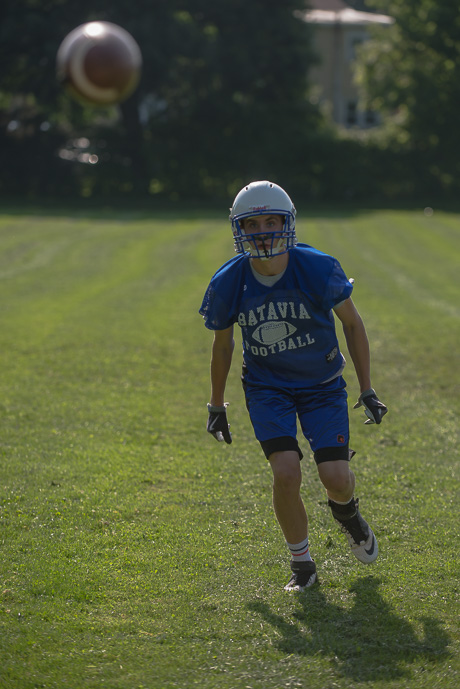 Coming into his third year as Batavia's head football coach, Brennan Briggs said both he and his players approach the 2014 season with some optimism.
There are seven returning starters on both sides of the ball, QB comes into his junior season as a second-year starter and there should be some other weapons on offense to help put points on the board.
"Overall the kids' attitude is very good," Briggs said. "They're excited coming into this season. They know they can win some ball games."
Joining Mruczek in the backfield will be a "committee" of runners.
"We've got some thunder and we've got some lightning back there," Briggs said.
During the off season, Mruczek has put the time in to make himself better, according to Briggs. He's studied film and schemes and really picked his brain to understand what it takes to run the offense.
"He's really been doing a great job for us. Great attitude, great commitment."
The coach said returning players who also seem ready to step up their game include Devon Koepp, Gunner Rapone and James Cryer.
Several sophomores who were part of the varsity last year are ready to assume bigger roles in 2014.
The Blue Devils are coming off of two consecutive 3-5 seasons.
Overall, the Briggs era continues to move forward as he works to shape the program according to his vision. 
"One of biggest things, coming into a program and kind of making it your own is setting that bar, setting the expectations of where you want it to be, so the kids understand exactly what you want  from them," Briggs said. "I think we're getting to that point where the kids understand what's expected of them every single day. They understand what kind of effort I'm asking from them."
The first game is Sept. 5, 7:30 p.m., at Livonia. The first home game is Sept. 12, 7 p.m., against Wellsville.