August 28, 2014 - 12:40am
Football Preview: Lancers, a year older and a year hungrier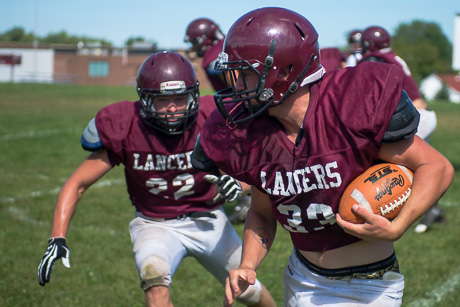 It's hard to find a high school football coach who will predict a winning season during an August practice session, and Elba/Byron-Bergen Head Coach Michael Cintorino is no exception.
But clearly, he has a lot to be excited about.
He's got a starting QB coming into his second year leading the varsity squad who's gotten bigger and stronger in the off season and put in the hard work to improve his skills.
He has two proven veterans to run the ball, and both his offensive and defensive lines are stocked with second- and third-year players.
Last year's 3-5 season was merely a chance to grow and learn for this group of players.
"This year, they're a year old, a year hungrier and they've been extremely competitive in practice and looking forward to the start of the season," Cintorino said.
The offense will be led by Garrett Chapell, who was shaky at times last year, but Cintorino said he's playing now with a whole new level of confidence.
"He looks fantastic this year, Cintorino said. "He put in a ton of work in the off season."
He'll have three first-year receivers, but Cintorino said they look like real weapons for Chapell so far.
The backfield will be bolstered with the experience of Steele Truax and Mike Shanley, who both proved last year they can run for positive yards and put points on the board.
So will this all add up into Ws for the Lancers, maybe a nice post-season run.
Cintorino dosn't want to go that far. Not yet.
"It's tough to say (how good the team will be)," Cintorino said. "Everyone else is probably saying the same things that we are right now, so we have to see what the league is going to look like once the season actually kicks off. Our goal is obviously to compete for a league championship and make it to sectionals and compete in the Class C sectionals, but there are a lot of good teams putting in the same work we are, so we have to wait and see until we get started."