August 28, 2014 - 12:01am
Football Preview: Young players already experienced in winning move into key roles at Notre Dame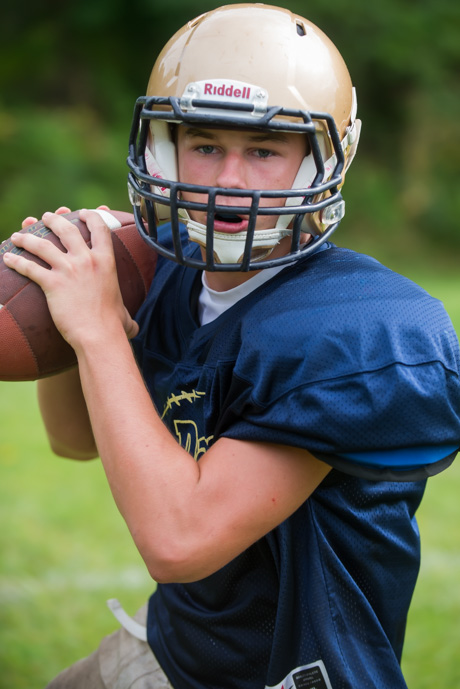 With each turn of a new generation of football players at Norte Dame, Head Coach Rick Mancuso usually finds a way to mold the young players into a winning unit.
Mancuso, of course, stops short of making any predictions for the Fighting Irish in 2014, but he does say he has a good group of young men who have been working hard and putting in the time to get ready for another season.
"Last year, our JV team had a successful season, so they're coming in and they had a lot of experience last year towards the end," Mancuso said. "We pulled up some kids for sections who got some playing time, which is a big advantage for them. Hopefully, we can keep them motivated and learning every day."
The offense will now be in the hands of junior Connor Logsdon, who led that JV squad last year to its undefeated season.
He steps into the shoes of record-setting QB Tim McCulley, but Mancuso said Logsdon is now his own man with his own offense to run.
"We're not asking him to fill anybody's shoes," Mancuso said. "We're asking him to execute the offense and do what he can do. Everybody's got to do their 1/11th."
Not much about the offensive scheme will change from recent seasons. Notre Dame will run and it will pass and work at setting up scoring opportunities.
"Unless you've got all the horses up front, you can't run the offense one way or the other," Mancuso said. "We're going to mix it up. We'll pretty much run the offense we've been running right along. We won't be spread as much as we were. We'll be spread sometimes, but we've got the full confidence in this team being able to execute what we put in."
The Irish are coming off a 6-2 season that ended jarringly with a 28-0 loss to Alexander in the first round of Class D sectional play. 
Notre Dame opens the season at home against Oakfield-Alabama on Sept. 6 at 1:30 p.m.
"We've got a great group of guys," Mancuso said. "I think everybody is going to do their best to make the team successful."