May 15, 2014 - 10:01am
Former tenant of condemned apartment building charged; meanwhile, restoration work continues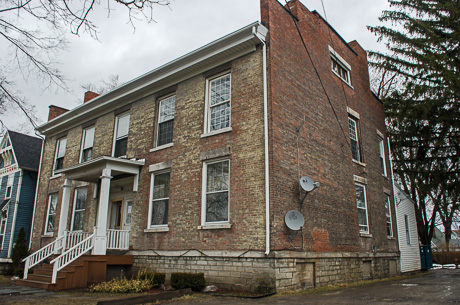 A former tennant of 113 Jackson St., Batavia, has been charged with theft of services for allegedly using an extension cord to provide power to his apartment.
The use of the cord was one of the alleged code violations the city cited to condemn the four-unit complex.
Property owner Guy Pellegrino told The Batavian on April 5 that things sounded a lot worse than they were with the building and he already had restoration projects under way. This morning, Pellegrino confirmed work is continuing on the building.
Arrested was Lonnie Ford Jr., 68, now a resident of Tracy Avenue, Batavia. Ford was issued an appearance ticket.
The electricity issue, like other issues, were easy to address, Pellegrino said, but the biggest area of concern for the 180-year-old one-time mansion was bowing of the south wall.
A structural engineer has determined that the building can be made structurally sound again through the use of a turn-buckle system. That would involve running cables through the building and installing buckles on the outside of the brick facade to secure the cables.
The process was frequently used with old masonary buildings in California after earthquake standards were introduced in the 1930s.
The buckles will be on the outside of the building, which means the city's Historic Preservation Commission must approve the design change.
Pellegrino said the commission will review his application May 28. Assuming it's approved, the buckling work will begin the next day.