March 8, 2013 - 2:44pm
GCEDC holds annual meeting, touts recent successes
posted by
Howard B. Owens
in
GCEDC
.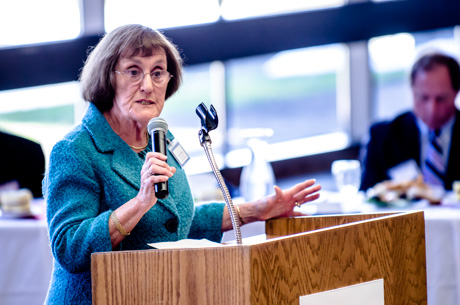 More than 200 people were at Genesee Community College this afternoon for the Genesee County Economic Development Center's annual meeting at which CEO Steve Hyde gave his annual report on the progress of the Industrial Development Agency.
Mary Pat Hancock (top photo), chairwoman of the Genesee County Legislature, was among the speakers and praised the agency for its contributions to the local economy.
"This agency has initiated, planned and implemented much of the successful economic growth in this county over the last 15 to 20 years," Hancock said. "They put their money where their mouth is, by loaning and backing potential investors who are willing and able to do business in New York and Genesee County, with a little help. Their success has sometimes made them a target, but none can deny their role in making this area flourish during a time of economic stagnation in much of this Upstate area."
Below is a press release from GCEDC about the meeting:
The Genesee County Economic Development Center (GCEDC) held its annual meeting at Genesee Community College to unveil the organization's 2012 annual report to the community. During the meeting, National Grid was honored and recognized for its collaboration in the community as the company received the Economic Development Partner of the Year Award from the GCEDC.
Among the attendees at the annual meeting included U.S. Congressman Chris Collins, New York State Senator Michael Ranzenhofer, New York State Assemblyman Stephen Hawley and Genesee County Legislature Chair Mary Pat Hancock as well as other local government and business officials. 
"We have the most progressive economic development agency in New York State and that is attributable to everyone here today," said Charlie Cook, GCEDC Chairman. "Through the leadership of the public and private sectors we have built a solid foundation for success now and in the future and in fact, the GCEDC board has already approved five major projects for 2013."
Among the economic development highlights for the region as outlined in the 2012 annual report include.
The attraction of 12 new businesses;
The ground breaking of the Muller Quaker Dairy facility at the Genesee Valley Agri-Business Park, which helped exceed investment goals in 2012 by more than $205 million as well as a multiplier effect of $27 million of income across the region from direct, indirect, and induced wages annually and the creation of approximately 692 jobs across various support sector industries and construction wages of $10 million;
The closing of 38 projects, with these companies contributing $225 million in capital investment and pledging the creation of more than 400 new jobs;
Expansions and fulfillment of job creation at Alpina Foods LLC, which also is located in the Genesee Valley Agri-Business Park;
Economic growth as a result of projects at O-AT-KA Milk Products, Yancey's Fancy, Liberty Pumps, Perry Vet, and Darien Lake; and
The unanimous vote by the Town of Alabama Board to rezone the Western New York Science, Technology and Advanced Manufacturing Park (WNY STAMP) site, which allows the GCEDC to proceed with land acquisition.
"It is imperative that we continue to maintain the momentum generated in 2012 for 2013 and as such among our goals this year is to bring the Buffalo East Technology Park to full shovel-ready status, bring $29 million of new capital investment to the County as well as finalize plans to bring a new middle-income housing development to the community," said Steve Hyde, president and CEO of the GCEDC.
"Lastly, we will continue our efforts to make STAMP a reality as it has the potential to transform the Western New York and Finger Lakes region into a high-tech nano-manufacturing hub that over the next 20 years could create 30,000 jobs onsite and by supply chain companies," Hyde concluded.
March 8, 2013 - 8:42pm
#1
Why didn't Mary Pat Hancock praise Hyde on his 200,000 dollar a year salary ..Or the bonus plan that she endorsed...How many millions have been spend to hand out all this corporate welfare.Does Mary Pat Hancock also praise the tax payer for giving this money away to all these companies....Ask the school district if they could use some of those tax abatement dollars that Hyde gave away.Or the county nursing home if they could use some of those dollars...IDA in New York do nothing put erode not grow the tax base...To give Muller/Pepsi a multi billion dollars company any type of tax break while at the same time the roads and bridges in genesse county are falling apart is not a cause for a party for the GCEDC .Until these company's are employing the numbers they claim they will hire and are paying full assessment like the rest of us tax payers there should be no touting of success at GCEDC..
I do like her statement...They put their money where their mouth is, by loaning and backing potential investors who are willing and able to do business in New York and Genesee County, Really Ms.Hancock their money..Where did their money come from...This is all public money..