February 21, 2014 - 9:00am
Geneseean of the Year: Tim Adams making a difference in business and with local youths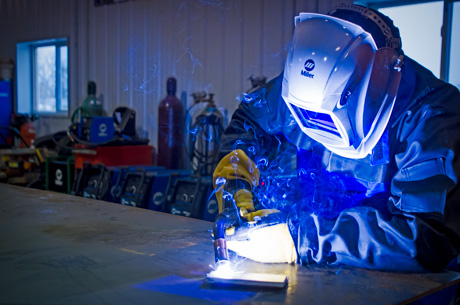 Metal can be molded, shaped and welded together so that it becomes something stronger.
So can the youth of our community.
In a manner of speaking, Tim Adams does both.
As owner of Adams Welding and Manufacturing in Stafford, Adams makes and repairs farm equipment and commercial products.
As a community member who grew up on a local farm, Adams remains deeply committed to 4H and donates hundreds of hours of his time each year to the organization.
Adams grew up in 4H and even after turning 19, he remained involved.
"You don't realize right away the impact 4H has on you and the values it instills in you until later on," Adams said. "It's not that you're out of 4H at 19 -- you don't realize at 19 all the values that you've taken from 4H until later on. This last year really hit home that without people who are willing to volunteer there's not going to be organizations like 4H."
This commitment to our community, both as a volunteer and a local business owner, is the reason Adams will receive a Geneseean of the Year Award from the Chamber of Commerce on Saturday night.
"I'm surprised to be getting the award," Adams said. "That's not why I did it. I didn't do it to get an award. I do what I do to help 4H. It's truly an honor to get it, but I never thought what I did was that much more than anybody does. I just did what I did to get it done."
The son of Mike and Debbie Adams, Tim grew up on their farm in East Bethany, where he developed an appreciation for farm equipment that is in good working order.
"I was pretty meticulous about it," he said.
At first, the Adams farm was a hog farm (later adding replacement heifers) and Tim got involved with the 4H Swine Club, where he met the late Ron Komer, whom he said was a big influence on his life and his view of leadership.
"He was always there to help you if you needed something," Adams said.
In high school, Adams was taking a class at BOCES and a classmate, Jake Pocock, asked him if he'd ever tried welding. He hadn't. Jake had him put on the protective gear and weld two pieces of metal together.
 "All it took was one stick rod and I was hooked," Adams said.
Two years of welding classes at BOCES and two years of more study at Alfred State and Adams had a career, and with his connections to the ag community in Genesee County, Adams had a place to start to build a business.
In early 2012, Tim Adams and his brother Scott (Adams Trucking) took a big step together for the growth of both of their businesses and built a shop in Stafford on Route 5.
Adams' involvement with 4H includes leading the Swine Club, conducting the tractor safety courses, serving on various committees and taking charge on some key fundraising efforts.
This past year, he helped organize -- with John Duyssen, Keith Carlson, Heather Weber -- the Swine Club's first pulled pork BBQ, which Adams believes is the most successful fundraiser in the history of Genesee County 4H.
This was also the first year the Swine Club sold a club pig at the County Fair's livestock sale.
Among the most cherished contributions Adams makes to 4H is teaching the tractor safety classes. He took his first class from Bob Mullen at age 14 and has been involved in tractor safety ever since.
He said it's such a critical class for farm kids and does a lot to prepare youngsters to help out around their family farms.
"Being involved in 4H teaches responsibility, it teaches community service, it teaches you to take responsibility for an animal and be accountable, and it teaches a lot of life skills," Adams said.
He is also a member of a welding trade association, the Farm Bureau and has helped raise money for Crossroads House.
All of this community involvement has inspired Scott Adams to get more involved.
"It's something to see somebody actually carrying off and pulling off as much effort as he does," said Scott Adams, who's chairing the fair committee this year. "He actually cares about what he does. He goes that extra mile to get something done. From what he does with 4H, he's got me more involved with the fair and the ag society. He's motivated me to get involved more in the community. It's an eye-opening experience that one person can make a difference."
Clearly, making a difference is important to Tim Adams. He wants to make a difference in lives of young people the way people like Komer and Mullen did with him. Maybe today's 4H members will remember what Tim Adams did for them.
"I hope they look back like I did 10 years after I was out and look back and say, 'Hey, he was helping make me the person I am today,' " Adams said. "I'm hoping that's what they'll say."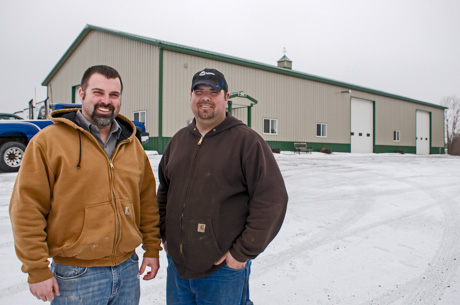 February 23, 2014 - 1:48pm
#1
A well deserved recognition of this Man's dedication to the community! Well done Tim Adams. It's my great pleasure to know you.