January 23, 2014 - 6:51pm
Harvester assault suspect will take his case to trial rather than accept plea deal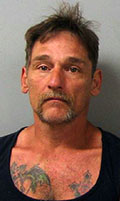 Shane M. Bell
Rather than accept a potential plea offer that could limit his prison term to two years, a 47-year-old Batavia resident would apparently rather take his chances with a Genesee County jury on a felony charge of assault in the second degree.
Shane M. Bell is accused of hitting and seriously injuring a fellow patron of The Harvester outside the bar on Harvester Avenue in August.
Scott Baker, 52, reportedly suffered a serious head injury in the incident.
If convicted by a jury, Noonan could potentially sentence Bell to seven years in prison.
District Attorney Lawrence Friedman said that an offer that would have capped Bell's prison term at four years was rejected, but in doing so defense attorney William Teford ask if Friedman would entertain the idea of a two-year sentence cap.
Friedman said he told Tedford to ask his Bell if he would accept such a plea deal, but never ever actually offered the plea deal.
After court, Friedman said he didn't make the offer because he didn't want to put Baker's family through a discussion about such a plea deal unless there was a chance Bell would accept it.
According to Tedford, Bell said he wouldn't agree to such an offer.
At Bell's pre-trial hearing five months ago, Tedford raised the possibility of a self-defense claim by Bell.