April 25, 2013 - 4:51pm
Hens: CSX crossing repairs were not supposed to happen like this
Somewhere along the line, it appears communication between CSX and county officials failed, according to Tim Hens, county highway superintendent.
Hens said he was informed a month or so ago that CSX and would be doing rail work in Genesee County, but the CSX official in Rochester assured Hens only one or two crossings would be shut down at a time.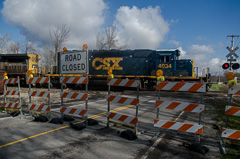 Last night, seven consecutive crossings -- from Wortendyke Road to the Erie County line -- were closed because of the repairs and this morning seven crossings remained closed and a CSX supervisor expected at least some crossings to be closed tomorrow.
"The guy in Rochester is a great guy and he's always been cooperative," Hens said. "We had a verbal agreement not to close all the crossings and to notify us ahead of time."
The notification to the county did specify that Colby, Fargo and Ellinwood would be closed, but not all seven crossings at once, Hens said.
Hens has been traveling and hasn't been able to speak directly with CSX officials this week.
Hens is under the impression from county officials who've had contact with the CSX headquarters in Jacksonville, Fla., that corporate honchos overruled local supervisors and ordered all the crossings be closed at once to reduce costs on the project.
In response to inquires from The Batavian, a CSX official contacted us early this afternoon and promised to provide more information later, but has not yet called back.
Hens called the mass closing of the crossings "ridiculous."
It affects residents, school buses and emergency responders. Detours can take 20 minutes or longer with all the crossings closed.
In the past, Hens said, he's never required CSX to apply for work permits to close down crossings. Typically, since CSX owns the right-of-way through the crossing, it wasn't clear that the county could require a permit. However, Hens recently learned that Monroe County requires CSX to receive permits, so Hens will be researching the legal aspect of that and anticipates requiring permits in the future.
UPDATE: Here's a statement from Sheriff Gary Maha --
Dispatch talked to them last night and they said some of the crossings would be open at midnight. We knew this could not be true as a deputy stopped at one of the crossings and it was all torn up. He was told some may be opened today if they could do paving. I talked to a Roadmaster out of Rochester and he was very apologetic and stated this isn't the way CSX does business. He stated corporate out of Jacksonville started something new, which was working 24 hours a day to get the work done. I stressed our concerns with not timely notifying 9-1-1 and local officials. I followed up with a letter today.
UPDATE: Here's a statement we received from CXS this evening --
As part of its ongoing commitment to ensuring safe and reliable rail freight transportation, CSX is in the process of conducting track maintenance on its rail line through Genesee County, replacing crossties. This is routine work that is conducted on a regular basis across CSX's 21,000-route-mile network. As part of that work, CSX is resurfacing selected highway-rail grade crossings across the line.
Simultaneously closing groups of crossings enables the track work to progress more quickly and minimize the total closure time at any one crossing. CSX crews are working around the clock in an effort to expedite the project. The current work schedule should allow the Colby and Fargo grade crossings to open this evening. The Ellinwood, Wilkinson and Wortendyke crossings are expected to open tomorrow evening.
In planning for this work, CSX representatives notified local officials in Genesee County and Batavia on April 12. The work schedule was approved the following day with the understanding that the Upton Road crossing would remain open for the duration of the project. CSX also routinely confirms with area emergency management centers the actual highway-rail grade crossings that will be closed as a result of a track maintenance project on the day the work actually is scheduled to begin.