April 8, 2014 - 10:39pm
Human trafficking seminar part of crime victim's week
posted by
Howard B. Owens
in
batavia
.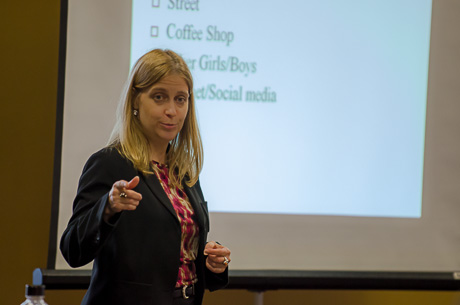 A couple dozen people, including members of local law enforcement, attended a three-hour seminar this evening on human trafficking at the Generations Center on Center Street.
Above, FBI Special Agent Jennifer Amo talks about prostitution, providing information on how pimps recruit teenage girls and how family members might recognize if a girl has entered into prostitution.
She said pimps typically look for victims at malls, coffee shops and on social media.
Signs that a teenager might be involved in prostitution include changes in behavior, clothing; absences from school, dropping extracurricular activities; changes in lifestyle; having more money, new clothes and material possessions; changes in friends or peers; a secret boyfriend or girlfriend.
Pimps will often require those working for them to get tattoos that serve the same function as branding cattle.
It's been years and years since there's been a prostitution arrest in Batavia, said Det. Pat Corona when we spoke with him after Amo's presentation. 
"In my career we haven't had any (arrests)," Corona said. "There have been very few reports or complaints or investigations. It occurs, but complaints are rare."
Still, it's important for local law enforcement officers to stay abreast of information about human trafficking and prostitution, Corona said.
Corona has worked a few human trafficking cases in the city.
The first involved employees of a Chinese restaurant many years ago. It began as a home-invasion burglary report, but when police responded, they found people at the residence who were bound and gagged. They were being held against their will and being forced to work, but Corona said it was very difficult to get them to cooperate with law enforcement because they were afraid. No arrest was made in that case.
There also a case involving door-to-door magazine sales reps. The workers were involved in burglaries and larcenies. When Corona interviewed two of the women involved, he learned they felt trapped with the sales company because they were earning very little money and had no way to get home. 
The human-trafficking seminar is part of the Genesee County Crime Victim's Week. 
Here are the remaining events:
Stewards of Children Child Sexual Abuse Prevention Training, 6 to 8:30 p.m., tomorrow; YWCA, 301 North St. Call Theresa at 585-344-0516, ext. 111, for information.
Open House at Justice for Children Advocacy Center, noon to 2 p.m., Friday, at 304 E. Main St. Call Anne Bezon at 585-344-8576 for information.
Ceremonial Walk and Reception, 5:30 p.m., Friday, at the Old County Courthouse Corner of Routes 5 and 63. Call Theresa at 585-344-0516, ext. 111, for information.