November 25, 2013 - 4:15pm
Installation of solar array atop Stan's Harley-Davidson nearly complete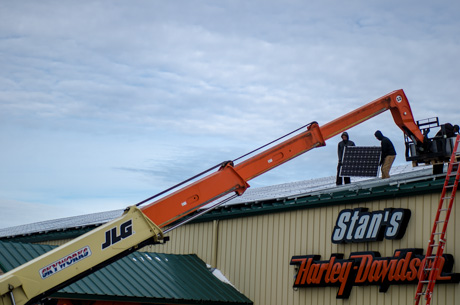 Workers are expected to complete the installation today of a solar panel array atop the westside roof of Stan's Harley Davidson on West Saile Drive.
The total cost of the project, which covers more than 10,000 square feet of roof, is $574,000 with the cost partially financed by state and federal tax credits.
The panels will product enough electricity to run all of Stan's operations. The power generated from the panels is first shipped to National Grid. NG then sells the power back to Stan's at a reduced rate.
That should mean about a 50-percent cost savings each month for the Harley dealership.
"We won't know, probably, until the first of the year and it's up and going what it's actually doing," said owner Darryl Horzempa.
Horzempa decided to pursue the project after attending a Solarize Genesee County workshop in January hosted by the Genesee County Economic Development Center (though GCEDC was not involved in the project otherwise).
"I'm interested in recycling and things like that, so it was a natural thing to me to help take care of the environment," Horzempa said.
Rochester-based Arista Power won the contract for the solar panel installation.
November 25, 2013 - 4:55pm
#1
Buffalo - Batavia - Rochester rank in the top 5 most cloudy cities in the whole USA.
Good luck.