June 18, 2014 - 9:50pm
Jim Maxwell named NYS Fire Chief of the Year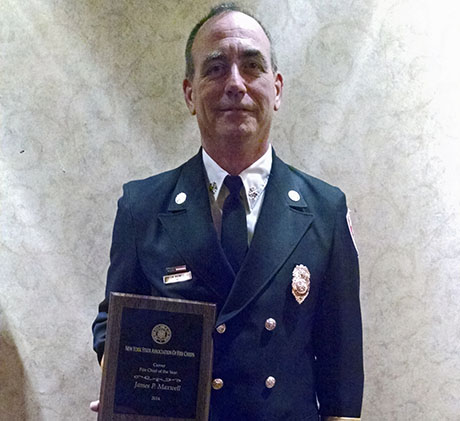 Press release:
The City of Batavia Fire Chief Jim Maxwell has been selected by the New York State Association of Fire Chiefs (NYSAFC) as the 2014 Career Fire Chief of the Year. Chief Maxwell received this award at the NYSAFC annual conference held on June 12th.
Chief Maxwell started working for the City in August 2010 as a 23-year veteran of the Kodak Fire Department (KFD) Eastman Kodak Company. During his career with the Kodak Fire Department, he is credited as serving as a HazMat resource tech, senior firefighter/EMT, lieutenant, captain and battalion chief. Chief Maxwell has also been a volunteer firefighter with Lakeshore Fire Department and North Greece Fire Department for more than 30 years.
City Manager Jason Molino said, "Chief Maxwell is an exemplary leader who has always been focused on putting needs of the City of Batavia residents above all else. He is forever committed to making the Batavia Fire Department the best it can be, and continues to dedicate himself to the men and women he serves with. It has been an absolute privilege working with such a professional and accomplished leader like Jim, and I congratulate him on being honored with this award."
This award is presented to association members for demonstration of exemplary leadership that has not only benefited an individual fire department, but also the emergency services of New York State. Honorees are chosen each year based upon their exemplary leadership, innovation, professional development, integrity, service to the public, and contributions to the fire service as a whole.
June 18, 2014 - 10:14pm
#1