February 20, 2014 - 12:11pm
Law and Order: Sex offender accused of not reporting address change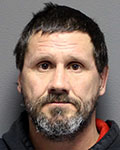 Shawn Powers
Shawn Powers, 48, of Wyoming County, is charged with failing to register a change of address. Powers, a registered Level 2 sex offender, was arrested by Le Roy PD for alleged failure to register a change of address as required by state law for registered sex offenders. He was previously a resident of the Village of Le Roy. Powers has a prior conviction for the same offense, making the new charge a Class D felony. He was jailed on $10,000 cash bail or $20,000 bond.
Richard Thomas Elliott, 82, of West Park Street, Pavilion, is charged with DWI, driving with a BAC of .08 or greater, failure to keep right and operating with driver's view obstructed. Elliott was stopped at 1:54 a.m., Wednesday, on Cato Street, Pavilion, by Deputy Joseph Corona.
Andrew J. Paladino, 34, of Shelter Street, Rochester, was arrested on Family Court warrant for alleged support violation. Paladino turned himself in on the warrant. He paid $200 toward his support obligation and was released pending his next court appearance.