January 29, 2014 - 7:01pm
Le Roy Dems pick candidates for village election in March
posted by
Howard B. Owens
in
Le Roy
.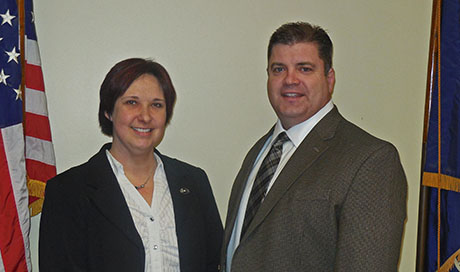 Press release:
On Jan. 27th at the Le Roy Village Hall the Le Roy Democratic Party held a nominating caucus for two positions for the Village Board election to be voted on March 18th. Jennifer Keys won a nomination to run for a second term on the Board and newcomer Bill Kettle was the Party's choice for the second position.
Keys, who has been a strong advocate for the Le Roy Pool and Main Street Revitalization, looks forward to running for a second term. She is an active member of The Le Roy Business Council and the Le Roy Farmers Market. Her goals for a second term include updating the Comprehensive Plan, remediation of abandoned properties, continued support of small businesses (on and off Main Street) and economic development in the Village.
Kettle, a lifelong Le Royan, has a working knowledge of village government and has been participating in board meetings. Bill is also currently serving as one of the directors of The Le Roy Business Council and is an active member of the Main Street Revitalization group. Bill has a wealth of experience to bring from more than 20 years of his professional career as well as his knowledge as a small business and Main Street property owner/investor. Bill is currently employed as a Business & Development Manager for JMT, a manufacturers' representation agency based in Rochester, New York.