January 24, 2013 - 1:29pm
Le Roy resident implicated in overdose death of woman from Chili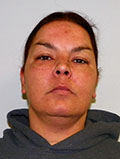 A Le Roy resident has been arrested in connection with the overdose death last August of a woman from Chili and charged with drug-related crimes.
Heather M. Price, 37, of 18 Genesee St., Le Roy, is being charged with criminal sale of a controlled substance, 3rd, a Class B felony. She was jailed on $50,000 bail.
The arrest comes following a five-month investigation into the death of the woman who was found by the Monroe County Medical Examiner to have died from a combined mixture of narcotics, including fentanyl and methadone.
Price reportedly found the woman dead in her apartment in August and called police.
Investigators say that evidence indicates that Price and the woman exchanged prescription medications.
"This is the third fentanyl-related death handled by the Le Roy Police Department in the past few years," officials from Le Roy PD said in a statement. "Le Roy Police are asking all citizens to be aware of what medications are prescribed to you, to use them only as directed and not to share your medications."