September 4, 2013 - 9:57pm
Man accused of hitting fellow concertgoer at Darien Lake pleads not guilty in first court appearance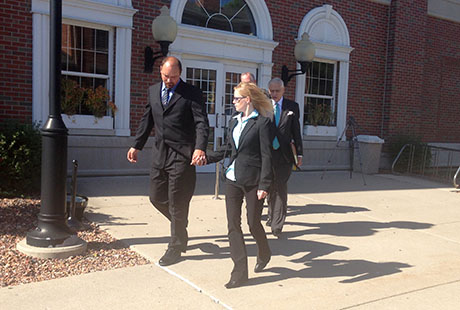 The most significant news out of County Court today is that Craig Lawson showed up.
Lawson is accused of hitting Jason McNeil, a former WNY resident living in Alabama, following the Kid Rock Concert at Darien Lake in July.
Following the punch, according to court documents, McNeil's head hit the ground. He was in a coma for more than a week and has been hospitalized since.
Initially, Lawson, who lives in Canada, was charged with a misdemeanor, assault 3rd, and bail was set at a mere $1,000.
Once it became apparent that McNeil's injuries were serious and McNeil might face an upgraded charge, there was concern in the community that Lawson would just skip his next scheduled court appearance.
Last month, a grand jury indicted Lawson on a single felony count of second-degree assault.
Today, Lawson appeared before Judge Robert C. Noonan and pled not guilty.
To win a conviction on an assault, 2nd, charge in New York, a prosecutor must prove that the defendant intended to cause serious physical injury.
Noonan dismissed a similar charge against Jacquetta Simmons in the Walmart case, ruling that the grand jury had not received enough evidence to sustain the assault, 2nd, count (Simmons was convicted by a jury on a subsection of assault in the second degree dealing with hitting and injuring an elderly person).
Mike Ranzenhofer, co-counsel with Buffalo attorney Joel Daniels, for Lawson, said it's hard to compare different cases and until the defense has received all of the supporting documents from the DA's office, it's hard to say if the charge can be supported.
But he expressed skepticism that his client is guilty as charged.
"This is a one-punch situation," Ranzenhofer said. "I don't think anything was intended here. That's pretty clear. But we'll have look at the documents once we get them."
The DA's office is dealing with another reportedly one-punch assault case right now, as well.  Last month, Batavia resident Scott Baker suffered a fractured skull when he was punched on Harvester Avenue. In that case, Shane Bell is accused of delivering a single punch that was the direct cause of Baker's injury.
Baker remains in critical condition and in a coma at ECMC.
Lawson is accused of delivering a hit that caused the victim to fall to the ground and hit his head.
Assistant District Attorney Robert Zickl said that of course the DA's office believes it can get a conviction on the crime as charged.
"We're very confident presenting that to the court and ultimately to a jury," Zickl said.
Last week, a page that had been set up by Pam McNeil to supply followers with status updates about her husband's medical condition, reported that McNeil was improving and that she was hopeful he would soon return home to Alabama.
Two nights ago, McNeil complained in a status update that the media was using the page to "harass" her and announced she would be removing the page from Facebook. As of today, the page no longer exists. She offered no details on what she considered harassment.
September 4, 2013 - 10:37pm
#1
He helped his case by showing up