January 26, 2014 - 12:04pm
McCulley's career-high 35 points leads Notre Dame over Prattsburgh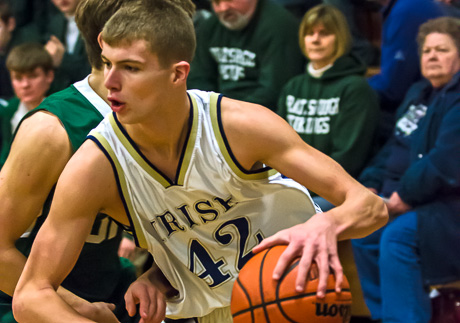 At times, last night, it seemed almost impossible for Notre Dame's Tim McCulley to miss a shot from beyond the arc.
The senior standout hit six three-pointers on his way to a career high 35 points for the game and a 82-63 victory for the Fighting Irish (11-3).
"He had a big game," Head Coach Mike Rapone said. "He shot the ball well, but he also passed the ball well. He kept everybody involved. He moved the ball around. That's what he's capable of doing. He's really a multidimensional player. He sets up a lot of guys, too."
McCulley is closing in on a career 1,000 points.
Prattsburg never really threatened Notre Dame and the Irish pretty much closed the game out in the third period, outscoring the Vikings 29-21.
With a little more support around point guard Isaiah King, the Vikings (now 7-8) might have made more of a game of it.
King scored 22 points, but also created numerous scoring opportunities for his teammates with smart, on-target passing and a few key steals. He gave the Irish fits until he fouled out late in the fourth quarter.
"We gave up too much dribble penetration for my liking," Rapone said. "Thirteen (King) hurt us on the dribble penetration. He's a good ball player, but we've got to stop that better than we did tonight.
"He's quick and he's strong," Rapone added. "He's left-handed and you don't see a lot of left handers so kids have trouble adjusting. He caused us quite a few problems."
Rapone said the Irish are maturing as a team and he likes what he's seeing. Even in the loss earlier this week to University Prep, Rapone said he thought the team played well.
"We're starting to come together as a team," Rapone said.
In addition to his 35 points, McCulley 10 rebounds, eight assists and four steals. Josh Johnson scored 14 points, including a pair of threes. Alec Covel had nine points as did Jason Hart. Caleb Nellis had eight. Dylan Fix, coming off the bench in the closing minutes, scored on a layup, bringing a big cheer from the home crowd.
For Prattsburgh, Baird Cameron was the only other player, besides King, in double digits scoring, with 11.
In the stands for the game was Jim Burke, a Section V Hall of Fame coach who amassed 517 wins leading the Prattsburgh boys for a number of years (Burke also had 177 victories coaching girls varsity). The only coach in the room last night with more boys varsity wins was Mike Rapone, who has 617 wins and counting.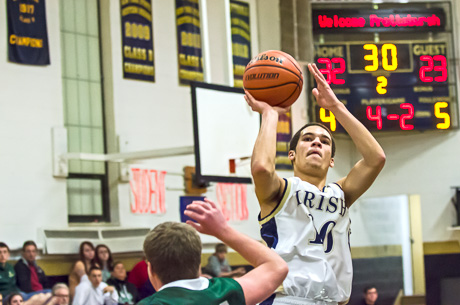 Josh Johnson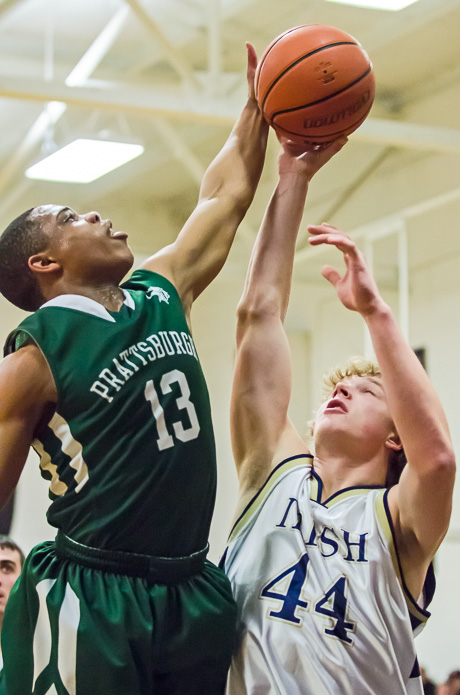 Isaiah King and Charlie Herbert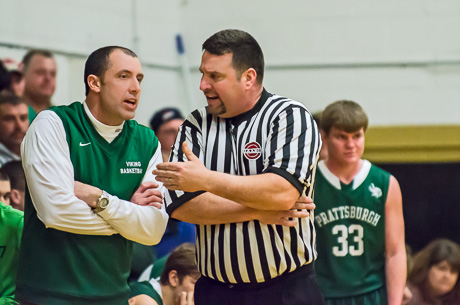 Prattsburgh Head Coach Brian Putnam had a few disputes with the refs in the 4th quarter, eventually getting a technical foul after complaining about the foul call (which could have gone either way) that was King's fifth, causing him to foul out.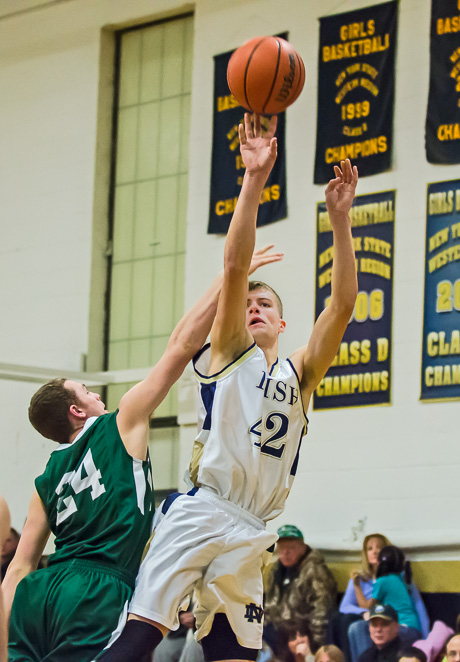 To purchase prints, click here.