August 3, 2014 - 5:17pm
Memorial to Derek Sheldon erected in Trestle Park in Byron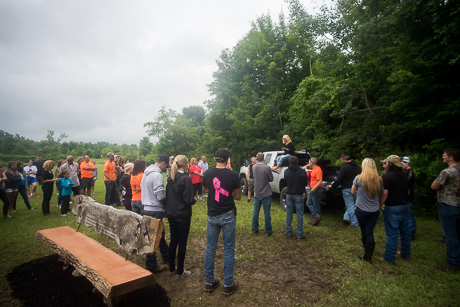 Friends and family of Derek Sheldon gathered this afternoon in Trestle Park in Byron to remember the young man who died a year ago tomorrow in an accident at West Bergen Road and Selden Road, Le Roy.
Friends created a memorial to Sheldon near the pond in the park. It consists of the memorial post that was originally erected at the accident site, a tree and a log bench inscribed with Sheldon's name, birthdate and date of his death, and a quote from Derek, "People come and go I guess that's life no matter how hard times get put your head up and take the punches because someone's always looking down on you."
The bench was designed and built by Jake Maurer and Josh Lathan. Devon Jessop, JBR Grafx, sandblasted the words onto the back of the bench. Dan Sheldon provided the marker on the original tribute pole.
After people visited for about an hour at the site, Derek's mother, Karen Lashbrook, said a word about how it's hard to believe Derek's already been gone a year.
Ashley M. Stillwell, who was riding on the back of Derek's motorcycle and was seriously injured in the crash a year ago, was at the gathering today and is in much better health.
Previously: