May 29, 2014 - 5:06pm
Molino announces two prestigious awards for the city and for a firefighter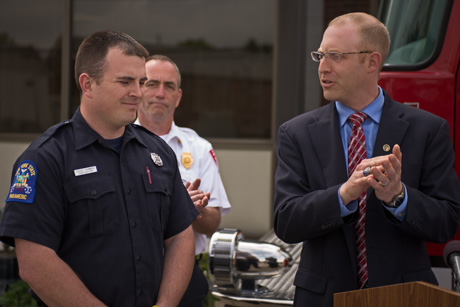 The City of Batavia has received two significant awards, City Manager Jason Molino announced at a press conference held at the Fire Hall this afternoon.
The city is receiving a Strategic leadership & Governance Program Excellence Award from the International City/County Managers Association, and Firefighter Chuck Hammon is being honored by NYS Child Safety Advisory Board with a Shining Star Award for his efforts to increase the number of child safety seats installed in the city.
The ICMA will recognize the City of Batavia at its 100th annual conference in Charlotte, N.C., in September.
The award recognizes the creation and implementation of the city's strategic plan.
"With input from the community and the hard work of City Council and staff, we have been able to create an effective planning process that has demonstrated real results in efficient operations and meeting the service needs of our residents," Molino said. "Though our continued efforts to improve our operations, make sound decisions and strong investments, the city is being recognized for making a meaningful impact for our residents, businesses and visitors alike."
Hammon was recognized because over the past three years, he's taken the city's child safety seat program from almost nothing -- only two trained installation technicians -- to a program with 18 technicians and more than 150 installations and inspections a year. Batavia has one of the most active fire stations for child safety seats in WNY now, Molino said.