February 27, 2014 - 1:53pm
Notre Dame and Bishop Kearney set to clash in Section V Class B2 finals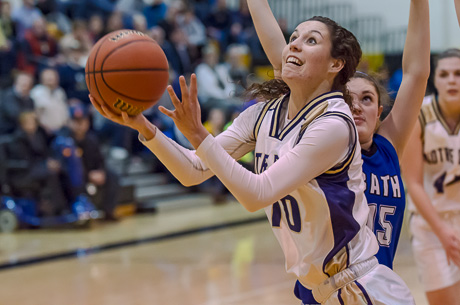 It's probably the outcome Section V officials predicted when they moved Notre Dame girls up three classes and Bishop Kearney up one to put both teams in Class B2.
The two private Catholic schools will face each other Saturday in the B2 Section V Championship. One team will eliminate the other and Section V officials can rest assured only one private-school squad gets to advance toward a possible State Championship.
The Fighting Irish enter the Section V Championship game with a 19-1 record after a close-call, overtime win against Bath-Haverling, 50-49. Bishop Kearney is 17-2 after having a much easier time of it against Le Roy last night, winning 75-47.
For ND last night, the Lady Rams, who entered the game with five losses, proved to be a handful.
"We knew they were a very good team," said ND Head Coach Dave Pero. "The thing we didn't know coming into the game is how quick they were. We had trouble defensively getting stops. We missed a few easy baskets underneath, but I think the thing that helped is that they (the ND girls) had the will to finish."
Bath's Mackenzie Smith proved a challenging opponent. She's tall, fast and can shoot. It was Laurie Call's job to defend her.
"Laurie had a tough time of it in her match-up with number three," Pero said. "Number three probably had six inches on Laurie and I think we finally found a girl that is almost as quick as Laurie and that's dangerous."
It turned out, the Lady Rams were a lot harder to play than they looked on film, said senior guard Mel Taylor.
"We knew three was going to be athletic, but I didn't think she was going to be jumping three foot higher than what we were playing defense on," Taylor said. "It was intimidating, it was adjusting to what we're not used to playing in regular season, but we did pretty well."
Smith scored 20 points, snagged 10 rebounds and had five assists.
Call, who typically doesn't get into foul trouble, was tagged with four.
"It was physical game," Call said. "It was really physical at both ends of the court. I caught myself reaching and so did the refs."
Taylor scored 14 points to lead the Irish. Emma Francis, nine, Rebecca Krenzer, eight, Shea Norton, seven, and Call, six.
Helping Smith out on offense for the Rams was Angelo Binkowski with 15 points, including two threes.
One of the side stories of the game was how quickly the refs, particularly one of them, were to call jump balls. A jump ball is supposed to be called when two players share possession of the ball, but often it looked like a player had possession while an opponent was merely reaching.
One such called came in the final 15 seconds of regulation when Norton grabbed an offensive rebound and Bath's Brooke Buckley was reaching in while Norton was trying to shoot. Rather than a shooting foul, it was called a jump ball.
A shooting foul there, with the scored knotted at 41, could have ended the game in regulation.
The Section V refs have reportedly been instructed to be quicker on the jump ball calls to cut down on foul calls.
Pero said them are the breaks of game.
"It did seem a little quick, but they see what they see and they're not going to change their minds," Pero said. "You've got to live with it. I learned a long time ago if you want to argue with them (the refs), you're going to lose. They've got the final say and overall the officials do a great job. They're the officials and the coaches are the coaches and we're supposed to coach and they're supposed to officiate. Sometimes you do get those calls."
In the night cap at Honeoye Falls-Lima, Bishop Kearney dominated Le Roy, but with a 10-8 record.
Kearney and Notre Dame could match up well. Both teams have five players who scored at least 100 points on the season and could match up on height.
Both teams are coming off State Championship seasons so they both have big game experience.
"All of our big games in past, all of our big elba games, this game today, it gets you ready for the big stage," Call said.
Before we knew for sure Kearney would be Saturday's opponent, Call said she was ready to face whoever came out on top of the semi-final game.
"Saturday's another basketball game," Call said. "It's senior year, so it's pretty emotional., but we're just going to play. it's a faceless opponent. Hopefully we come out with a patch."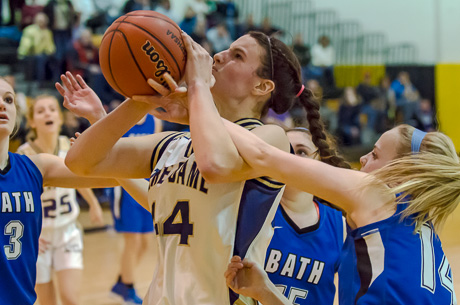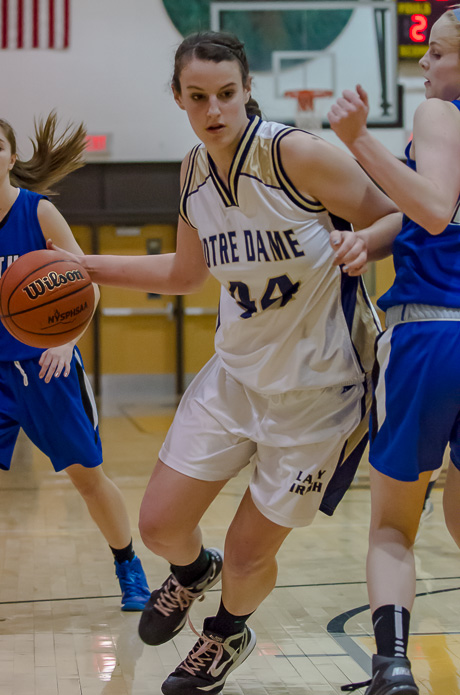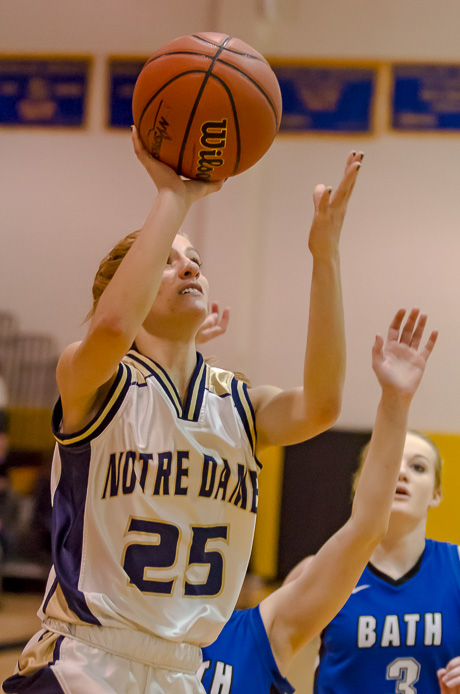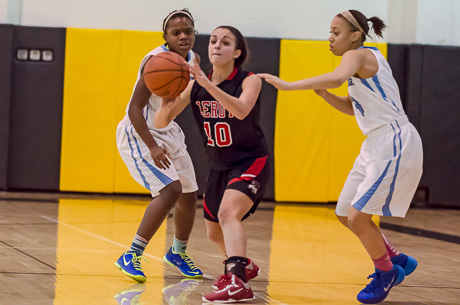 To purchase prints, click here.