June 4, 2014 - 8:06am
Notre Dame downs Whitesville 14-3 to advance to Far West Regional Championship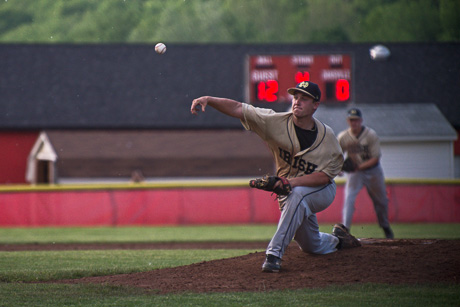 A favorable post-season schedule and a duo of dominant pitchers have certainly helped Notre Dame make a championship run, Coach Mike Rapone said after the Fighting Irish beat Whitesville in a Class D consolidation game 14-3.
In years past, by this time Section V and Section VI would already have played their regional championship game, but for Notre Dame, that game won't come until Saturday in Jamestown.
The spread schedule has allowed Rapone's pair of aces -- Alec Covel and Tyler Stroud -- to get plenty of rest between starts.
"They've been dominate all year," Rapone said. "Teams are hitting .100 or less against both of them. Covel's ERA is under one and Tyler's is a little over. You come to expect, I mean, I hate to say it, but you come to expect that you're going to get a well-pitched game. You just hope our defense and hitting keeps up."
Stroud took the mound in Dansville yesterday and gave a command performance through five innings. He struck out seven through five and didn't give up a hit until the fifth, when a Whitesville runner reached base on a close call at first.
"Really, I try not to think about it (the no-hitter), but it's there a little bit," Stroud said. "It's in the back of your head, so of course when I give it up, it's like, ah."
That squib of a hit put two runners on (Stroud had hit the prior batter).
Whitesville's first solid knock would come two batters later when their hitting machine, Cole Tracy, would lace a line drive to right field.
Stroud surrendered two runs in the fifth.
It helped, Stroud said, to have his offense jump to an early lead. The Irish scored a run in the first and then six in the second. 
Covel lead the offense with four hits and three RBIs. Andrew Mullen added two hits and knocked in three runs. Jarrod Wall also had two hits.
Mullen, the team's catcher, now hits clean-up for the Fighting Irish and over the course of the season has become an offensive force. He's playing more relaxed, he said, which has improved his approach at the plate.
"I've realized finally now, it's just a game," Mullen said. "It's fun. After this, it's probably over for me playing baseball, so it's fun to be with the team for three years now and it's all fun from here."
Notre Dame doesn't know yet who its opponent will be Saturday in Jamestown, but Rapone said he's confident the team is ready for the challenge.
"We've played good all year," Rapone said. "We've lost 3-2, 6-4 and 2-0, so we've been in every ball game. You just hope to continue to keep playing and see what happens."
For Notre Dame, all of the seniors are now high school graduates. That means no more classes, no more regular routine, the potential to lose focus.
"That's something you worry about," Rapone said. "It's not the same routine. They used to get up, go to school, then go to practice or a game. Now they're home. Who knows what time they're getting up. Some of them have jobs, so they're already working. That's always a concern this time of year."
How do you keep them focused?
"I just tell them to get up," Rapone said. "Get out of bed. But I'm not there to make sure they do it."
Mullen said that as a graduate, you know this is the last hurrah and that's what keeps you on task.
"It's a little scary to see how fast it flew by, so that's one thing that keeps you focused," Mullen said. "You realize the end is near, so just getting up every day and doing the normal routine, not sleeping in until 3 o'clock, and going straight to the game."
This is a team, Mullen said, that will get the job done.
"We're pretty relaxed," Mullen said. "The team camaraderie is pretty good. We can mess around together. We can get serious together. We always keep each other on task or focused and when it comes to game time, we have all the same goal in mind."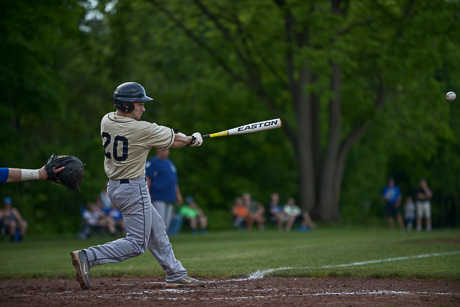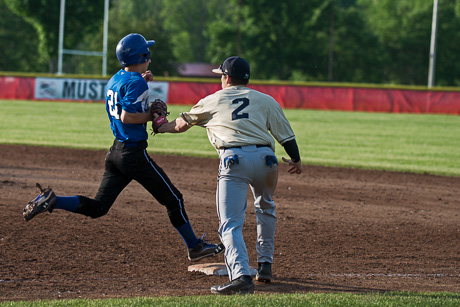 Whitesville's first hit. Ruled safe at first.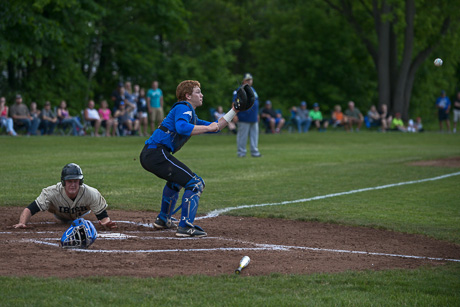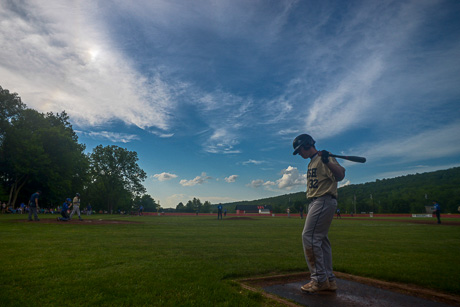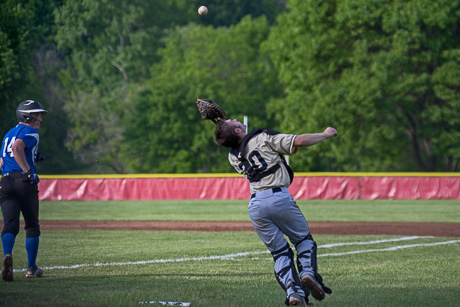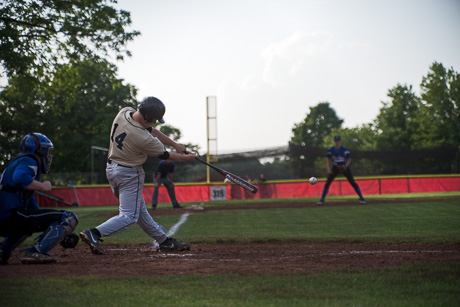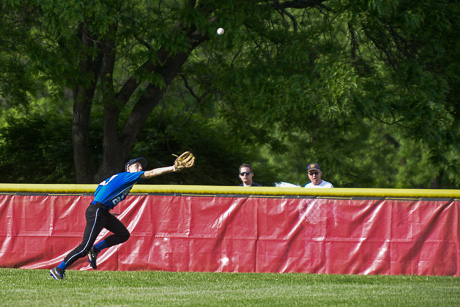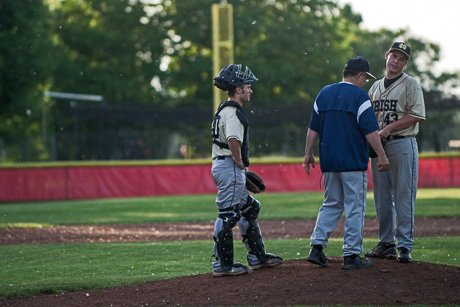 As white fluffies fell on the field, Stroud was lifted in the sixth after giving up two hits. Stroud was having a little bit of hip pain, which affected his control and velocity. Even so, Stroud was unhappy about coming out of the game. "I don't like to watch," Stroud said. "I like to be out there."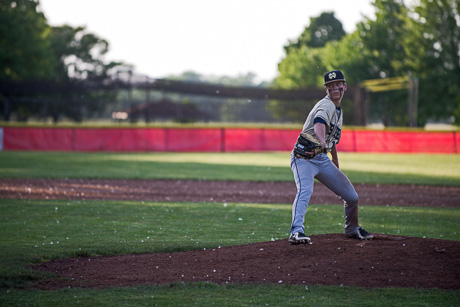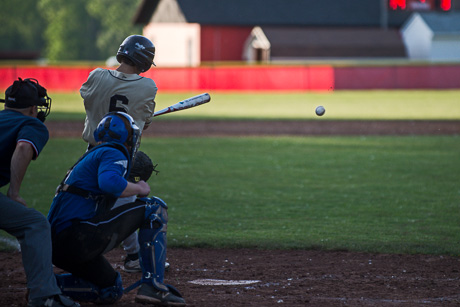 To purchase prints, click here.