February 19, 2012 - 7:56am
Notre Dame upsets Brockport to move to next round in Section V hockey playoffs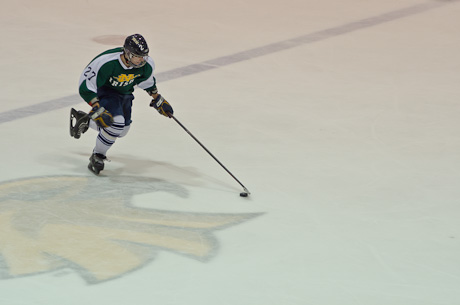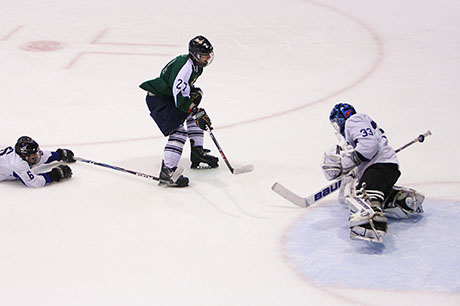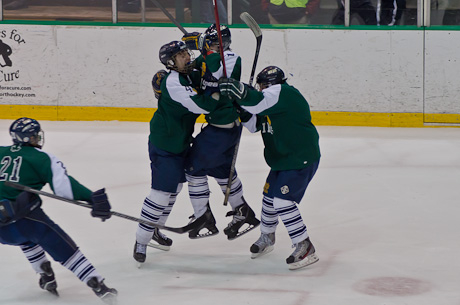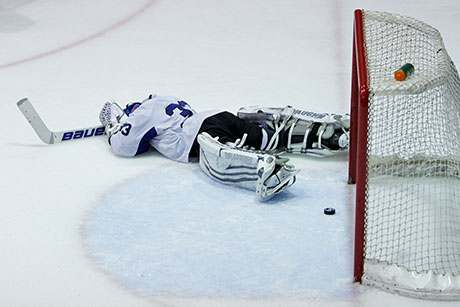 (Second and fourth photos above by Bare Antolos)
The Brockport Blue Devils Ice Hockey Team came into the Section V playoffs as the number-one seed, and were stunned Saturday night in an overtime loss to number-eight seed, the Fighting Irish of Notre Dame.
So stunned, that as Irish players skated toward the victory celebration one Brockport player gave a Notre Dame player a shove and another started yelling and gesturing toward cheering Le Roy fans.
"I think I'm about one of 30 people in the world that's not surprised by this (victory)," said Coach Marc Staley after the game. "In the playoffs, it's all about momentum and we've really been building the past three or four weeks with this team."
Josh Johnston, who had two goals in the night, slipped passed defenders with a pass from Mason Versage and flipped the puck over the glove of Brockport's goalie Justin Keene at 1:03 into overtime to give Norte Dame (9-8-3-1) a 4-3 victory.
Brockport (16-3-2) jumped to a quick 2-0 lead in the first period on goals by Carlos Ross and Tyler Hill, but Notre Dame also scored two first-period goals, one by Johnston and the second by Versage on a penalty shot.
"This is the fifth time this season we've come back from a two-goal deficit, so the kids didn't panic," Staley said. "I'm very proud of them for that. We just went about the game plan."
Brockport took the lead at 3-2 in the second period, but Notre Dame continued to skate tough and held the Blue Devils in check until Zach Blew managed to tap in a goal at 8:15 left in the third period to tie the score and set the stage for overtime.
"We played better as team and ran our systems better in the game than they did," Staley said. "That ultimately was the difference."
Being number one seed kind of worked against Brockport, Staley suggested.
"They were off for 10 days," Staley said. "They got a bye and sometimes that hurts you. You get a little flat. I think we took advantage of that layoff they had tonight."
This isn't the first time Notre Dame has entered the playoffs as the number-eight seed and still managed an upset victory.
"The last time Notre Dame was the eight seed was five years ago and we upset Canandaigua, which was the number-one seed at the time," Staley said. "We're developing a little bit of a reputation as a giant killer."
Next up for Notre Dame, number-five seed Irondequoit, who beat the four seed, Canandaigua, on Friday, 6-4.
The hopes of a Batavia vs. Notre Dame final were dashed in Webster last night when the Blue Devils dropped their playoff game to Webster, 2-0.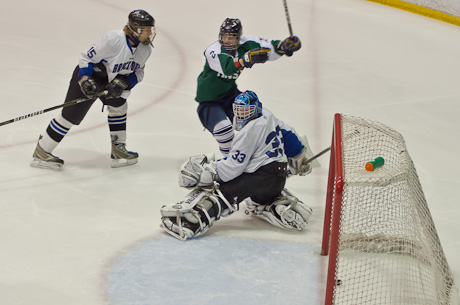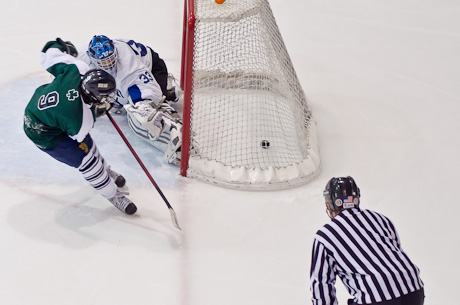 If you have difficulty viewing the slide show below, click here.
To purchase prints of the photos in the slide show, click here.
February 19, 2012 - 9:17am
#1
Congratulations on your win ND.
That was a fantastic performance and it was truly fun to watch the No. 1 seeded team completely befuddled by your adherence to your forechecking system. If you maintain that discipline you can continue to advance toward your goal.
Now go back to work in practice and get prepared to do the same against Irondequoit. You won a big game, but it's just another step on the journey.
Marc....great job!!
February 21, 2012 - 12:20am
#2