December 5, 2012 - 12:40pm
Oakfield Fire Department to discontinue ambulance service Jan. 1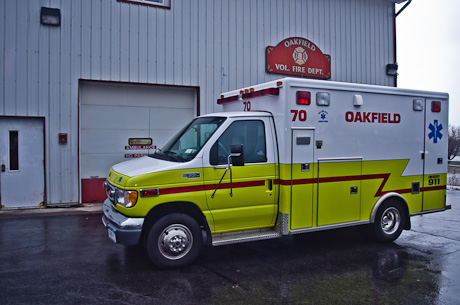 It's become harder to recruit and retain emergency medical technicians and the manpower shortage has led the Oakfield Fire Department's board to the difficult decision to discontinue its ambulance service.
Department President Mike Ognibene said it would take at least 10 EMTs to run a service that could dependably respond to calls and the department has only three volunteer EMTs now.
Out of about 15 calls for service a month, Ognibene said, the ambulance might roll on one or two calls. He said, as a driver, there are many times he shows up at the fire hall and waits for an EMT who never arrives.
After a couple of minutes of waiting, the call is turned over to Mercy EMS.
"Mercy EMS has done a great job since they've taken over (ambulance service in the county)," Ognibene said. "They've done a great job of responding, so it benefits us more to be there to help them, which we can do with our rescue truck. Since we don't have to have an EMT, we can get there fast to assist them with the rescue truck."
Truck 70 will go out of service at midnight, Dec. 31.
There is a bit of cost savings that goes with discontinuing the ambulance service, and that money can be rolled over into support of the firefighting service, but the biggest issue is manpower.
"My fear all along has been that we start having manpower shortages and that some agencies would discontinue EMS service," said Tim Yaeger, emergency management coordinator for Genesee County.
Losing Oakfield's ambulance, he said, means there's one less rig to roll in any kind of major event where multiple people are hurt.
That's why Genesee County Emergency Services embarked on a recruitment and retention drive earlier this year. The campaign includes media ads, hiring a recruiter and producing marketing products to attract people to volunteer services in firefighting and medical response.
"If anyone has ever thought about becoming a firefighter or EMS volunteer, now is the time to act," Yaeger said.
For an EMT, state mandated training takes close to 200 hours to complete. Ognibene said his department has had a few people sign up for training but not complete it.
It hasn't always been that way said longtime department member Robert Hilchey. 
Oakfield started its ambulance service in 1974, at a time when the only ambulances in the county were owned by St. Jerome's and Genesee Memorial hospitals.
"Some in the department thought we should have an ambulance out in this part of the county, so Oakfield was the first (fire company) to provide ambulance service," Hilchey said.
There was a time when Oakfield had enough EMTs to assign nightly rotation to responders. One crew would be on call from 10 p.m. to 6 a.m. on Monday, another on Tuesday and so on.
Hilchey said members of the department just don't think they can get back to that level of service.
Recruiting new EMTs. however, is critical, Yaeger said, to maintaining levels of service throughout the county.
There are ambulances in Bethany, Le Roy, Byron, Bergen, Darien and Alexander. Those services are important to their communities, but also provide fill-in capabilities in those rare times when all of Mercy's rigs are tied up, and would be essential in a mass casualty type of situation.
With the loss of Oakfield's ambulance, however, neither Ognibene nor Yaeger anticipate any less service availability on a routine basis for the citizens of Oakfield.
Typically, Mercy EMS can roll to Oakfield quickly and, as Ognibene noted, the department still has medic-trained personnel to provide first-aid and basic life support and volunteers can respond to any emergency with the rescue truck.
Hilchey agreed.
"I'm very confident that Mercy EMS has taken over our responsibility and our residents and our taxpayers in the village will not be short changed in any way," Hilchey said.
To learn more about volunteer opportunities in Oakfield and the rest of the county, visit Ready Genesee.