January 4, 2013 - 4:48pm
Officer Jamie Givens completes field training, assigned to day shift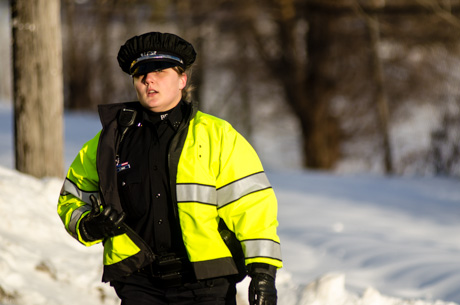 From Batavia PD Chief Shawn Heubusch:
It is with great pleasure that the City of Batavia Police Department welcomes Officer Jamie Givens to its ranks.
Officer Givens joined the Batavia Police Department on March 1, 2012; she attended the Basic Police Academy at Monroe Community College's Public Safety campus. While at the Basic Police Academy Officer Givens learned many aspects of Law Enforcement such as accident investigations, vehicle and traffic enforcement as well as handling emergency situations. Following her formal classroom education Officer Givens entered the Batavia Police Department's Supervised Field Training program in early September of 2012.
During her time in in Field Training Officer Givens was exposed to normal police activity all the while being monitored and evaluated by experienced Field Training Officers. While in Supervised Field Training Officer Givens was able to test her knowledge and learn tactics from veteran Officers. Officer Givens received high praises for her knowledge and ability during her time spent in Supervised Field Training.
Officer Givens has successfully passed Supervised Field Training and will be assigned to the Day Platoon starting in early January 2013.
We ask everyone to join the Police Department in welcoming Officer Jamie Givens to the City of Batavia Police Department.
Photo: By Howard Owens, taken at the scene of today's motor-vehicle accident on Clinton Street.