September 20, 2011 - 5:31pm
Photo: Salsa and Curry offers up cuisine from Mexico and India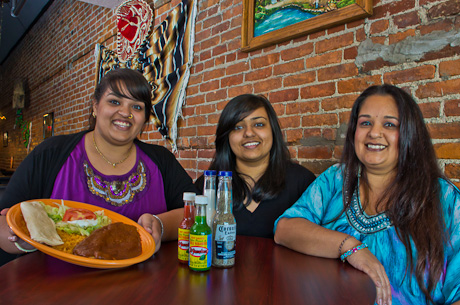 The menu of great local restaurant choices in Batavia grew a bit today with the opening of Salsa and Curry on Jackson Street (former location of Margarita's Mexican Restaurant).
Owners Deena Rathod (right) and daughters Anvpa Hirani (left) and Priya Rathod have opened with just a Mexican food menu for now, but starting Friday will offer daily Indian food specials.
If the Indian food goes over well -- and several of the first customers in the restaurant today asked for Indian food -- then the menu will be expanded.
"If there is demand for it, we'll bring in more Indian food," Deena said. "We'll add it to the menu, but for now we're trying it on a limited basis."
With no previous Indian food restaurant in Batavia to judge the curry-and-spice offerings of the cuisine, the Rathods want to see how much demand there is for Indian menu items.
The Rathods have made a significant investment in remodeling the interior of the former Margarita's, reconfiguring the space, putting in new flooring, booths, tables and chairs.
"I've always wanted to open a restaurant," Deena said. "I have a passion for food and I like to make different dishes. In the past, when I've made different dishes for family and friends, they all enjoyed it."
Deena said many customers who have come into Mr. Wine and Liquor -- which her family also owns -- since Margarita's closed have urged her and her family to open a restaurant, especially an Indian restaurant (the building on Jackson is owned by Deena and her husband, Kevin).
The opportunity seemed ripe to go ahead and give it a try, Deena said.
September 20, 2011 - 8:59pm
#2
I am very excited about this! I'm a vegetarian and have a tough time finding a lot of options for myself here in Batavia. Indian restaurants tend to have a lot of vegetarian dishes because of their culture so I frequently find myself looking into them. I'm hoping that will be the case when I check out their menu on Friday. Count on me being there!
Normally I have to drive out to Buffalo for this sort of thing. I'm hoping Batavia takes advantage of this opportunity to have a little diversity!