April 19, 2014 - 8:07pm
Portion of Byron Road closed due to culvert collapse
From County Highway Superintendent Tim Hens:
Byron Road between Griswold Road and Walkers Corners Road is closed until further notice due to a drainage culvert that has collapsed. The road is undermined and is a hazard to all traffic. County Highway will be investigating the scene for long-term repair options on Monday.
UPDATE 9 p.m.: The following photos and information were sent to us by Korinne Haymon.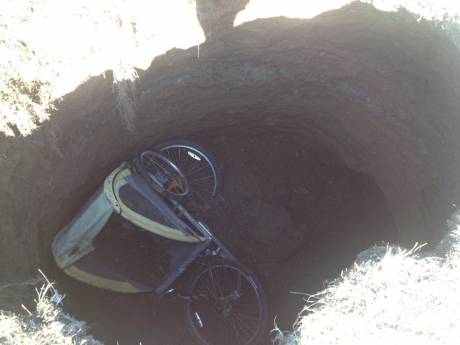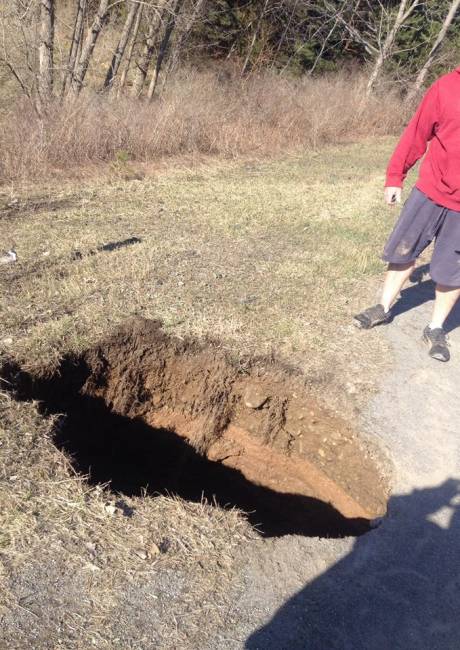 According to Korinne Haymon, her husband was taking their two children out for a bike ride on Byron Road when suddenly, the ground crumbled beneath them. Their 7-year-old jumped out of the carrier, but their 4-year-old fell into the sink hole. Korinne's husband jumped in and got him out, but "he had a hell of a time getting out because the sides were crumbling," Hayman said. "Very scary!" The width of the hole is 15 to 20 feet, Haymon said. "My kids are so traumatized. We're just thankful everyone is OK." Haymon said they called the Highway Department rather than the Sheriff's Office because nobody was hurt.
April 19, 2014 - 8:55pm
#1
My friend's family lives near there and were out for a bike ride, this sinkhole opened up right beneath them as they passed over. They're all okay, but that had to be a bit unnerving to say the least!
April 20, 2014 - 3:31pm
#2
That's one quick and calm father to do that without freaking out (at least until *after* he saved his child, if at all). Glad all are OK.