May 28, 2014 - 3:20pm
Prison sentence corrected for Alabama man accused of firing shots in direction of deputy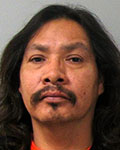 Sentenced once, an Alabama man who was arrested in November after police believed he had fired a weapon during an apparent domestic incident, was back in court today to be sentenced again.
Judge Robert C. Noonan said neither he, the prosecution nor the defense picked up on the fact in February that the charge Reuben Lay admitted to was not a violent felony. Since it wasn't, Noonan could not impose a determinate (set time) sentence under NYS sentencing guidelines.
The 50-year-old Lay could have withdrawn his guilty plea to criminal possession of a weapon, 3rd, but that would have exposed him to a trial on the other charges he face and a conviction could have meant consecutive sentences on each count.
Lay, who entered the courtroom with two state prison guards and was dressed in khaki slacks and a crisp white shirt and sporting close-cropped hear and sunglasses, declined the chance to withdraw his plea and was sentenced to 22 months to 66 months in prison.
During the early morning incident on Bloomingdale Road, Lay reportedly fired shots in the direction of a deputy and trooper. The Emergency Response Team was activated, but never deployed. Since there were no hostages and Lay presented no immediate danger to others, the Sheriff's Office decided to wait until the morning to arrest Lay rather than engage in a late-night confrontation.
Lay was charged with with criminal possession of a weapon, 3rd, and reckless endangerment, 1st, both Class D felonies. He was also charged with misdemeanor counts of criminal obstruction of breathing or blood circulation and harassment, 2nd.