August 3, 2012 - 6:53pm
Program will help identify accident victims with medical conditions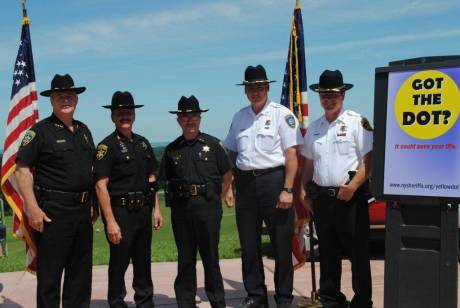 Press release:
In an effort to better serve and protect the citizens of Genesee County, Sheriff Gary T. Maha in conjunction with more than 30 county sheriffs and the New York State Sheriffs' Association are offering the Yellow Dot Program.
Yellow Dot is a free program available to individuals of all ages that was designed to help first responders provide lifesaving medical attention during the first "golden hour" after a crash or other emergency.
The program has launched in 30 counties across the state.
"When you can't speak for yourself, Yellow Dot can speak for you," said Peter Kehoe, executive director of the sheriffs' association.
The Yellow Dot kit contains a medical information card and a Yellow Dot decal. Participants complete the card, attach a recent photo, place it in the glove compartment of their vehicle, and place the Yellow Dot decal on the rear driver's side window.
First responders arriving at the scene of an emergency will be alerted by the Yellow Dot decal to look for the medical information card in the glove compartment.  
To obtain a Yellow Dot kit, contact Carolyn Della Penna at the Genesee County Sheriff's Office at 345-3000, ext. 3510, or visit www.nysheriffs.org/yellowdot.
Yellow Dot materials will also be available at Genesee County fire departments.
The New York State Sheriffs' Association, Inc., is a not-for-profit corporation, formed in 1934, for the purpose of assisting sheriffs in the efficient and effective delivery of sheriffs' services to the public. It comprises all of the elected and appointed sheriffs of New York State.
Yellow Dot was started in Connecticut in 2002 by People's United Bank. Originally developed for senior citizens, the program can be used by anyone of any age.