April 5, 2014 - 8:47am
Restoration work was in progress, landlord says, when city condemned apartment building on Jackson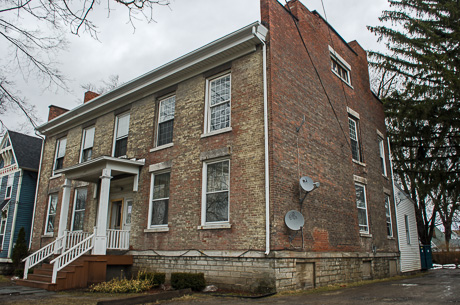 The four-unit apartment building at 113 Jackson Street has been condemned by city officials and its residents relocated, but the owner says things sound a lot worse than they really are.
The most notable problem is the south wall, according to Guy Pellegrino, which is clearly bowed out, but Pellegrino said it was that way when he purchased the building 15 years ago and was in that condition years before he bought it.
It's never been an issue with city officials until now, he said, and it may not even be necessary to repair. He will need to hire a structural engineer to make that determination and present findings to the city.
The 4,000-square-foot building is 180 years old. The property is assessed at $115,000.
City Manager Jason Molino said 113 Jackson was closed for electrical, mechanical and structural code violations.
Molino said the Red Cross assisted, at least for the first day, the two tenants living in the complex after the building was condemned.
City officials only acted on the property after there was a report of a possible fire in one of the apartments Tuesday, Molino said. Firefighters found suspected code violations and a code enforcement officer was called to the scene.
According to Molino, tenants at the apartment were living in "deplorable conditions." The building was condemned, he said, because it was unfit for human occupancy.
Pellegrino has a different version of what city inspectors found at the complex.
First, the second-story apartments have been vacant since the Fall and are currently undergoing a complete restoration. The apartments have been gutted. The floors have been removed, the walls are being repainted and all the junk left by previous tenants thrown out.
"My plan has been once Spring rolls around is to finish the apartments and turn them into better quality units," Pellegrino said.
Pellegrino believes that it was the former upstairs tenants who have been the source of suspected criminal activity in and around the apartment building. After there was an armed robbery of a pizza delivery driver reported at that location, Pellegrino evicted both tenants, having them physically removed from the property.
A lifelong Batavia resident with a large family locally and other business interests, Pellegrino said the reports of criminal activity at the address, especially the suspected armed robbery, were a real embarrassment.
"That's not who I am," Pellegrino said. "I don't want people to have that impression of me. Once I thought they had something to do with it, I got rid of the tenants."
What Pellegrino didn't know, he said, was that one of his downstairs tenants was a hoarder and was stealing electricity from a neighboring apartment.
"The only person living in deplorable conditions was the hoarder," Pellegrino said.
The woman who lived in the other apartment kept her place clean and there was no problem with that unit, Pellegrino said.
The man had lived in the apartment for 10 years, according to Pellegrino.
"His rent was $600 a month and he paid it like clockwork," Pellegrino said. "I had no reason to believe he was a problem and I had no cause to go into his apartment."
The resident, Pellegrino said, created the alleged electrical code violations by removing electrical panels so he could tap into the power lines of another apartment, and running extension cords into his apartment.
Each apartment has its own electric meter and tenants are responsible for their own utilities, so Pellegrino doesn't get the electric bills and had no idea the tenant no longer had his own electric service to his apartment, he said.
One thing people don't understand, Pellegrino said, is that when a landlord rents to Section 8, HUD or any other social services tenant, the apartments are inspected by the government before the tenants move in. There's never been a problem with his apartments, Pellegrino said.
Other than the issue with the south wall, everything the city says is a code violation will be easy to fix, Pellegrino said. If a structural engineer clears the long-standing bowed south wall, then it will no longer be an issue, Pellegrino said.
There's a dumpster behind the apartment that's half filled with junk and garbage bags. The dumpster was originally brought in to help with the gutting of the two upstairs apartments. It's also being filled with the decades-long accumulation of junk left in the basement by former tenants, and, Pellegrino said, the hoarder has already started cleaning out his apartment and throwing stuff in it.
After 15 years in the residential rental business, Pellegrino is ready to get out. All of his properties are going up for sale, he said.
He was leaning in that direction before 113 Jackson was condemned, he said, but he's been "just sick" about what happened with the property and he's had enough. He thinks a lot has changed about the kind of tenants a landlord has to deal with in Batavia over the past 15 years. It's just not a good business to be in, he said, especially for someone who values his reputation in the community.
April 5, 2014 - 9:44am
#2
I know Guy and his family. They are upstanding people, and I know that he is just sick to death over all of this!!
I also know that he is the type of person to make everything right, and be an asset to this community. Guy is not the kind of individual to allow such things to persist!
Thank you, Howard for writing a two sided piece. I have come to expect a little thing called journalism from you, and regardless of my opinion on the given topic, I know that it will be thorough.