March 12, 2013 - 1:34pm
Significant cost expected to clean up former metal recycling facility on Bank Street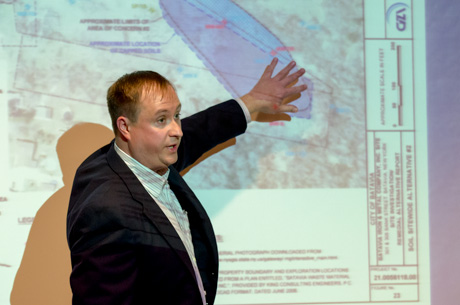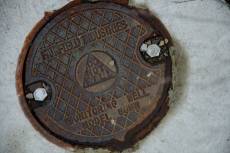 The cost will be significant to clean up a former industrial property at 301 Bank St., Batavia, but it will be the state that picks up the bill, the City Council learned Monday night.
Some 4,000 tons of solid waste needs to be removed and another 20,000 tons of contaminated soil must be dug out and trucked to Texas for incineration.
The current owner of the property, Batavia Waste Material Co., Inc., went into bankruptcy in the mid-1990s. The city could have filed a tax-lien foreclosure in 1999, but the risk was the city would take on the responsibility for clean up of any contamination.
For more than 50 years, the property was used as an iron and metal recycling facility, so the possibility of contamination seemed likely.
"From a city perspective, the situation first involved a Hobson's Choice," said City Attorney George Van Nest. "What do you do? Do you foreclose and maintain municipal ownership, or do you leave it alone for the next 100 years."
The city found a middle way in the early 2000s -- apply for a state grant to hire a consultant to do an environmental assessment and come up with a plan for cleanup. 
Working with the Department of Environmental Conservation, the city hired GZA GeoEnvironmental of New York, based in Buffalo, to take on the study and develop the plan.
It's been a slow process, at a cost of more than $200,000 (city share, 10 percent) because DEC officials have had to approve it each step along the way.
Fieldwork was conducted between January 2006 and December 2010. There were 22 test pits dug, 50 soil probes, seven monitoring wells sunk and some 130 soil, sediment, surface water and groundwater samples collected.
The result -- some significant contamination on some portion of the property, including lead and PCB.
Already, some 40 tons of soil laced with PCB and pesticides have been removed and incinerated in Texas, just to take care of the most pressing issues.
Now the DEC is considering a full-on cleanup and will hold a public meeting at 6:30 p.m., March 20, to present its findings and gather public input. A final "record of decision" will be released March 31.
The cleanup, called remediation, is expected to take as long as 10 years, but when completed, the city will be able to finally foreclose on the property -- valued at about $190,000 -- and then sell it to the highest bidder. CORRECTION: The entire prodcess, starting in 2004, is a 10-year process, so officials expect completion in 2014.
The property is zoned for residential development.
As for who pays for the cleanup, the DEC will use money from the state's Inactive Hazardous Waste Disposal Site Superfund, a pot of money collected from fines and fees paid by polluters. 
Part of the Superfund process for a site cleanup is identifying a "responsible party" who will then be billed to remediate the current site.
"This is the best case, because we don't have to take over the property and be responsible for the cleanup and assume the cost of the cleanup," City Manager Jason Molino said. "In time, we can turn it into residential property."
Top photo: Chris Baron, consultant with GZA GeoEnvironmental.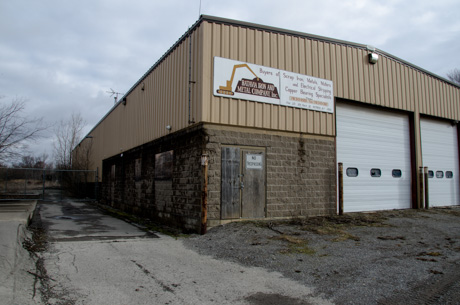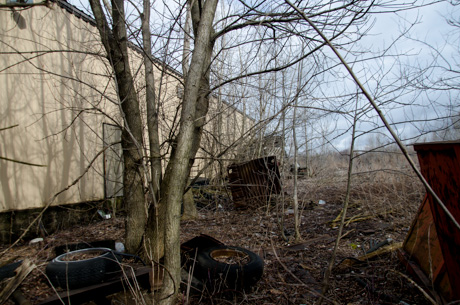 March 12, 2013 - 2:55pm
#1
So despite NY's seemingly infinite list of regulations, a business is permitted to exist and thoroughly pollute its property while making how many millions along the way, then conveniently close up shop and leave a dump for someone else to clean up? Who got fined for that mess and conscious acts of negligence? And the city (meaning us) coughed up $20K for a study? Bogus! It's all well and good that some of the clean up is funded through a pot of fines, but why isn't the chain of ownership held responsible for what they have done? Imagine the waste in fuel, time, etc... to take care of someone else's mess. Is that really the American way? Irresponsibility and disregard for others (environment, etc...) is not the spirit of capitalism.
10 more years of this eyesore in a residential neighborhood that gets tons of visibility due to the events held at Dwyer stadium next year is frankly pathetic. Looking good Batavia!
Once the dust settles, I hope a couple of things are examined before turning the dump into a residential property:
1 - Additional parking at Dwyer Stadium (several cars already park in front of the dump which means more cars forced out into the double packed streets for events).
2 - A new back road to the current high school property to alleviate the daily logjam on State St.