February 27, 2012 - 1:04am
Smart play propels Notre Dame to Class B Section V title in hockey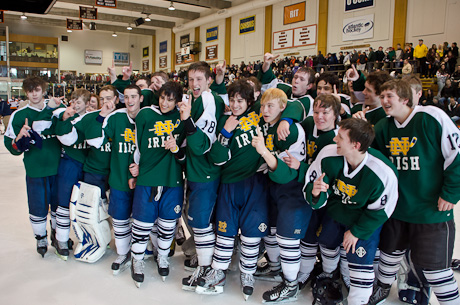 Playing a number-two seed with a reputation for getting physical and skating fast, Notre Dame Head Coach Marc Staley had a plan: Bottle up the neutral zone and force Churchville-Chili to pass.
"We forced them to dump the puck," Staley said. "They don't want to dump the puck and grind it out. They want to score on the rush and use their speed. We took their speed out of it."
For three periods, the eight-seeded Fighting Irish skated as a team, and when they got power play opportunities in the third period, they made the most of it, turning a 1-1 tie into a 4-2 victory and a Class B Section V crown.
Josh Johnston scored all three third-period goals, giving him seven total for the post-season, and securing the game's MVP trophy.
"We came in thinking, 'we're not the underdogs,' " Johnston said. "Clearly, seeding-wise we were, but we just stuck together as a family and played together as hard as we could."
Three post-season wins have moved the once break-even Irish to 11-8-3 and a chance to play for a regional title.
"Nobody thought much of us three or four weeks ago, but we pulled this thing together," Staley said. "As we put one good game against another good game against another good game, these kids feel like a completely different team than they did three weeks ago. I've seen that transformation and it's been very special to be a part of it."
The first goal in the game for Notre Dame came with 1:11 left in the second period on a shot by Zack Blew to tie the score at 1-1.
Johnston scored on a power play at 7:47 in the final period. Seconds after the next faceoff, Johnson scored again to make the score 3-1.
The nail in the coffin for the Saints (16-4-3) came with under two minutes left in the game, only 13 seconds after Churchville-Chili pulled into a point of a tie on a goal by Dan Kuter.
Tyler Kessler zipped a pass to Johnston who was skating just ahead of his defender giving him a one-on-one match with goalie Dylan Niewiemski.
Johnston faked to his left, and then flipped the puck from his right past the outstretched glove of Niewiemski, giving Johnston the hat trick and putting the game pretty much out of reach with time quickly winding down.
"We've been practicing that blow-out play," Staley said. "We always like to run this play right after a big emotional play because you tend to have a let down. They scored that one goal, we called that play, Kessler picks it up, hits Hosh and we go right back after them.
"Sometimes the best defense is to throw another punch," Staley added.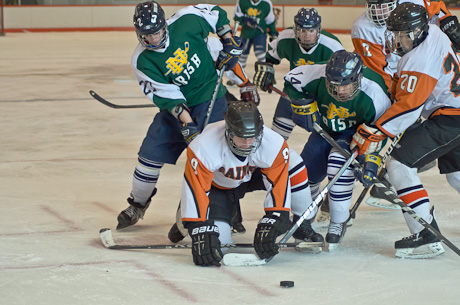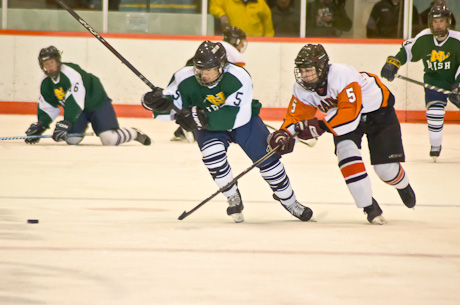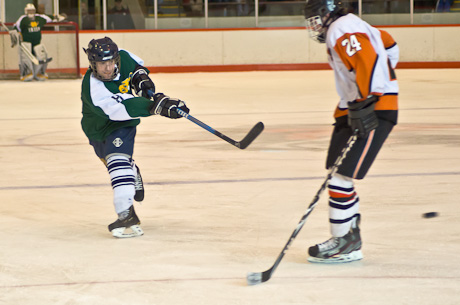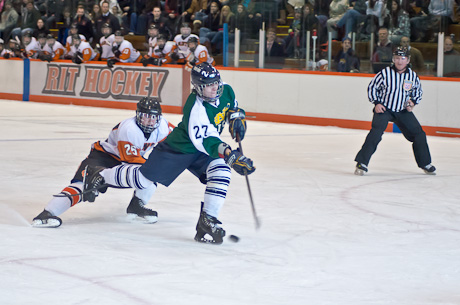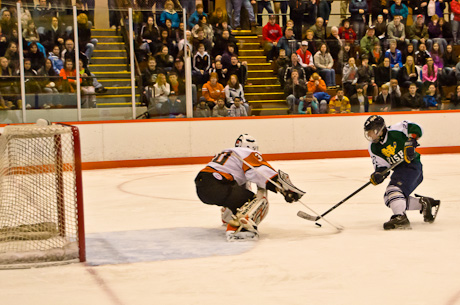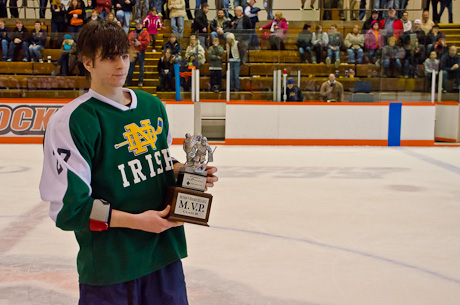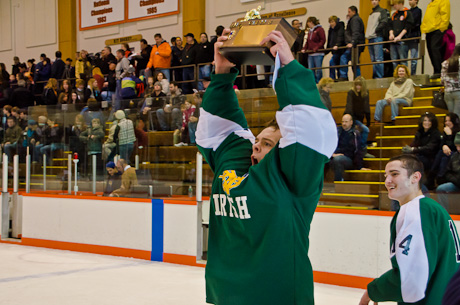 If you're unable to view the slide show below, click here.
To purchase prints of any of these photos, click here.
February 27, 2012 - 7:02am
#1
Congrats to the Irish! We are all so proud of you and your efforts!! Thanks to you and your families and everyone involved for making this happen!!
Class of '72
February 27, 2012 - 10:01am
#2