June 28, 2011 - 12:27pm
Son of Jack Davis accused of leaving the scene of a personal injury accident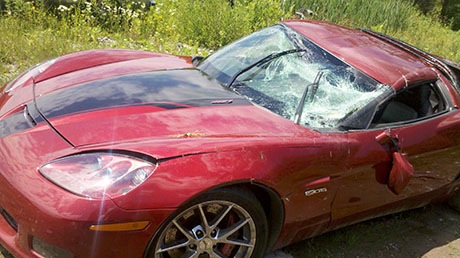 The owner of a red Corvette involved in a single-car rollover accident at 1 a.m., June 20, has been cited for allegedly leaving the scene of a personal injury accident, according to State Police.
The driver is allegedly Robert R. Davis, 50, of 1355 Main Road, Corfu. Davis is the son of Jack Davis, four-time candidate for Congress in the 26th District and president of I Squared R Element Co., in Akron.
After the accident in the area of 871 Gabbey Road, Pembroke, local law enforcement conducted a search for Robert Davis in the area and on South Lake Road, Pembroke, speaking with residents about his possible location. At one point, an investigator noted that at least one homeowner he spoke with had "honesty issues."
Davis was reportedly with his girlfriend. 
According to Sgt. Kurt Schmitt, the female passenger was eventually treated at Suburban Hospital in Erie County, supposedly taken there by a friend.
The Corvette was impounded at Jim and Bob's Service in Pembroke until Robert Davis surfaced. The car was released to Davis yesterday morning and Davis was issued citations for leaving the scene of a personal injury accident among other alleged infractions.
Jack Davis said he had heard his son was involved in an accident and tried finding out more about it last week, being concerned about his welfare, but hadn't gotten much information.
"He's not gotten back to me," Davis said. "I'm sure he's disappointed in what he's done. It's embarrassing, but all families deal with situations like this."
This isn't the younger Davis' first run-in with the law. In 2009, he was charged with criminal possession of a weapon, 4th for allegedly possessing a switchblade knife. Information is not immediately available on the disposition of that case.
Photos submitted anonymously by a reader.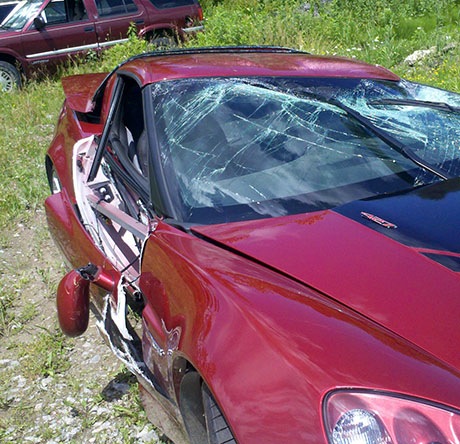 June 28, 2011 - 2:17pm
#4
Red Barchetta and Life in the fast lane are two songs that came to mind when I read this article. I bet even if you have all the money in the world rolling over in a fast car would make you have to change your pants. Must be nice to have diplomatic immunity.