February 15, 2013 - 2:38pm
Spencerport woman accused of stealing from her employer in Batavia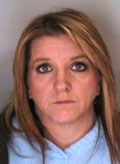 LoriAnne Vogel, 48, of 2401 Spencerport Road, Spencerport, is accused of stealing more than $3,000 from a local business where she worked.
The woman was an office worker, according to Batavia PD and in an attempt to cover up cash deficits, she allegedly falsified business records.
Vogel is charged with grand larceny, 3rd, and falsification of business records, 1st.
Following arraignment in Batavia City Court, Vogel was released under supervision of Genesee Justice.