June 10, 2013 - 3:28pm
Stafford CC, more affordable than you might think, with wealth of family activities, club president says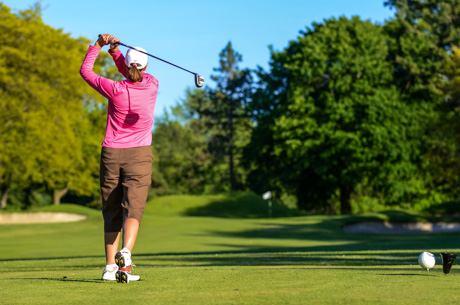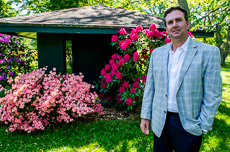 There's a new energy at Stafford Country Club says club President Marc Staley, with more activities for families and improvements to the golf course that keep it interesting but also make it more playable for those who aren't long hitters.
Stafford is in its 91st year and has had good times and bad times, Staley said, but things seem to be on an upswing these days.
"We try to make sure people come out here and enjoy themselves, that's number one," Staley said. "We have a top-notch course that's playable, a tremendous outdoor pool -- the largest outdoor pool in Genesee County -- a fish pond, bocce ball, tennis, sledding in the winter, dining -- there's a lot of things that are very family friendly about the place."
Stafford, being a private club, has the reputation, of course, of being elitist and stodgy. That might have been true at one time, Staley said, but that was then and this is now. There are more women members and more children around.
"We're working hard to get the word out as a board that this isn't some stuffy place, not some place over in Stafford where only rich people go and hang out and smoke cigars," Staley said. "I think it had that feel to it for many years, and I think by design. A lot of members liked that persona, but times have changed."
It's hard to dispel the myth, according to Staley, because the club's charter prohibits it from spending money on marketing.
The club also can't advertise its membership fees, which are considerably lower than one might expect and for avid golfers as affordable, at least, as playing open-to-the-public courses on a weekly basis.
"When people contact us, they're typically shocked that there's no initiation fee and that there's a dues structure that's payable over 10 months," Staley said. "For a family that's playing 30 or 40 rounds of golf a summer, whose husband, wife and kids are playing, it is every bit as affordable as playing those rounds on a public course where you're paying greens fees and renting a cart every single time. Every time you go, it's a hundred or hundred and twenty bucks if you take a family."
An annual full family membership with unlimited golf is a bit over $3,000, plus members are obligated to spend at least $600 a year on food and drinks, which helps ensure the club can afford to keep staff on its payroll. 
There are also tiers of membership for people who don't play as much golf, or don't play golf at all. A social membership (you can still pay greens fees for up to three rounds a season) is $600. That gets you unlimited access to the clubhouse, pool, two clay tennis courts and all social events.
In recent years, the number of social memberships dropped off, Staley said, but the board is working at incorporating more social events into the calendar to bring some of those members back.
Staley said his experience is typical of many of the family members -- he joined when he was single and 28. Back then, it was all about golf. Now he's married with two young children. His wife golfs, but the family spends a lot of time at the pool (which is has its own food and beverage service) and participating in family events, such as scavenger hunts and family meals.
Six times a year the Staleys participate in the club's "Nine and Dine" event, which puts two couples in a foursome for a best-ball tournament and then the players enjoy a meal together.
It's a great way, he said, for members to meet each other and get to know each other better.
One of the big social events, Staley said, is the annual bocce ball tournament. It's a packed house with an Italian buffet that night.
The big annual events are the club's invitational golf tournament, in which members must invite a guest, and the fall tournament, in which members can play each other. The tournaments tend to be packed, Staley said, and even attract galleries who follow the play.
The course opened in 1922 and was designed by Walter Travis, a renowned course designer who had already built several beautiful courses in the Northeast, including Orchard Park, Look Out Point and Cherry Hill.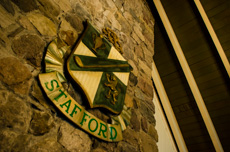 In the middle part of the century, some of the Travis-designed features were lost and the club has been working over the past 15 years to bring those features back and to make other improvements to the course, Staley said.
An example at Stafford is shaving the grass shorter on the aprons of the greens. Most of the greens have slopes and mounds around them that can make hitting a green more challenging, but also give the golfer more creative options for pitching, chipping and putting.
"During times of economic stress, maintenance decisions get made, not just at our course, but other courses, too," Staley said. "If you look at some of the history of the courses in Rochester that have been around for years, they change. You really have to make a concerted effort to put them back to play the way they were designed. Only then can you see the brilliance of the designer."
One of the projects under way at Stafford is to build more forward-placed tee boxes. It's part of the USGA's "Play it Forward" program. With more young golfers, more women and more seniors, golf courses need to become more playable.
"When you come out here you want to enjoy yourself," Staley said. "You don't want to get your butt kicked for four hours."
There have also been trees removed that weren't part of the original Travis design, or because they've become diseased; and there has also been a major renovation of the bunkers.
There's a whole, multi-year master plan for improvements.
"It will take us a lot of years and a lot of money to do it, but we're trying to stay committed as a board to doing something to move it along, move it in the right direction," Staley said.
Staley thinks a lot of people in Genesee County simply aren't aware of what Stafford has to offer or what a unique opportunity Stafford offers to golfers who would enjoy a private club membership. He said board members hope they can start to change the Club's image.
"If you picked Stafford up and dropped it in the middle of Perinton, we have a different story here," Staley said. "You would be paying $15,000 or $20,000 up front just to get in the door, but we not here. That's the beauty of this place. It's sort out in the middle of nowhere, and for people who live in Le Roy or in Batavia, you really have a gem out here, a beauty of a place."
On the Web: Stafford Country Club.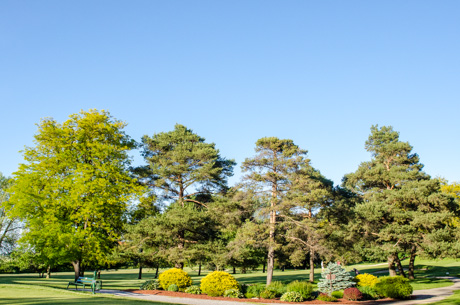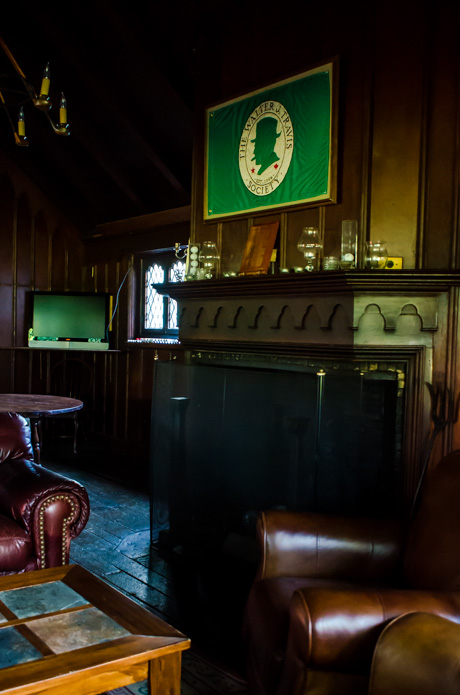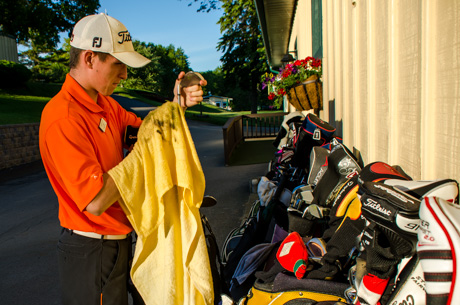 June 10, 2013 - 5:32pm
#2
Tim,
Your parents were tremendous members for many years, very active in both the golf and social scene. Your father was also my favotrite gym teacher of all time. Just wanted to clarify a couple things.....
Our membership has been steady for the past 3 years and we are actually up about 10 members from 1 year ago. Stafford has never had much more than 300 regular members even in it's heyday, and we are currently just north of 250.
Due to Stafford's Private Club Status we are not allowed to Advertise. Semi-Private courses that offer a yearly membership AND public play advertise all the time. Fully Private clubs like Stafford, Oak Hill, CCR, Monroe, or Brookfield to name a few....cannot. We prefer not to mess with the IRS.
Members have tremendous incentives now to bring in new members to the club, including saving the sponsoring member meaningful $$ on THEIR dues structure. This program has worked very well the past 3 years. You are obviously not familiar with our incentive programs, and it certainly does not involve a couple greens fees.
Our billing system and software has been updated and is on par with the very best of private clubs in Buffalo or Rochester. This happened a few years ago.
I can't speak to the experience you had contacting the club last year, or the mode in which you did it, but folks typically receive a response from the club within 24 hours. You can contact [email protected] if you still have any interest in learning more about the club.
Lastly, Stafford did have some issues with Billing reciprical play many years ago. The issue was resolved with Stafford collecting virtually ALL of the unpaid obligations, and what the club was "out" was minimal at best. Certainly NOWHERE near the number you cite.
If you would like any further clarification about the club, or would like to contact me directly, please do so at [email protected]. My term will be up in October, at which point, I will go back to being just another member who feels very lucky to have a great club like Stafford, just as your Parents did for 45 years.
Thanks again HOWARD for the vist to Stafford CC. Pictures are awesome!
Marc Staley