July 7, 2012 - 10:05am
Storm damage reports coming in
posted by
Howard B. Owens
in
weather
.
There is a report of wires arcing in the area of 2104 Judge Road, Alabama.
Alabama Fire Department is responding.
There are also reports of tree limbs down in a few locations, including on Pratt Road.
UPDATE 10:08 a.m.: Report of wires down and arcing in area of 8900 Creek Road, Batavia. Town of Batavia fire responding. Also, according to National Grid, some 170 customers are without power in the Dodgeson Road area of Alexander.
UPDATE 10:13 a.m.: Pavilion Fire Department is also working an incident on York Road.
UPDATE 10:21 a.m.: National Grid reports 31 customers without power along Route 20 in the area of Brookville Road, Alexander. Also, a tree is down in the area of Dillon Road, Pavilion.
UPDATE 10:27 a.m.: Pavilion is working multiple incidents of trees and lines down. All available manpower requested to the hall.
UPDATE 10:31 a.m.: 15 minute ETA for National Grid on Town of Batavia's incident.
UPDATE 10:41 a.m.: Photos sent in by Tim Walton. A tree was knocked down by a lightning strike in the area of 100 Ross St., Batavia. The tree damaged a car (only one parked where three are normally parked) and took out a fence on Batavia Middle School property. Also, a tree reported down on Old Creek Road and a chief responds he's also received a report of a tree down on Little Canada Road. Dispatcher: "Copy, trees down everywhere."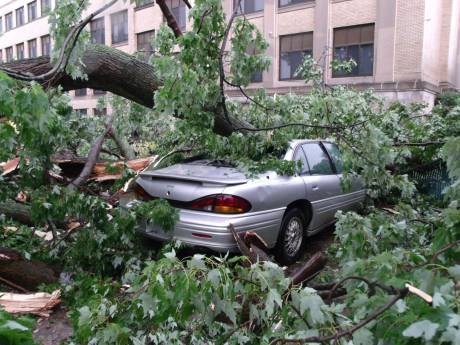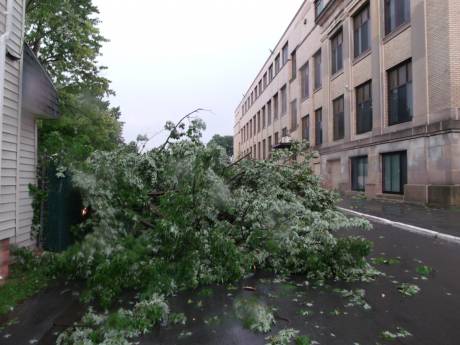 UPDATE 10:50 a.m.: Report of lines down, arcing on Wilkenson Road, East Pembroke. East Pembroke fire responding. Also, fewer than 10 customers without power in the area of Route 20 and Route 63, Pavilion. No word on whether traffic signals at that location effected.
UPDATE 10:56 a.m.: Texaco Town intersection, traffic lights on four-way red flash.
UPDATE 10:58 a.m.: Creek Road and Little Canada trees removed. Wilkenson Road being closed between Route 33 and Lear Road.
UPDATE 11:23 a.m.: Creek Road is clear. Town of Batavia is back in service.
UPDATE 11:34 a.m.: East Pembroke is back in service.
UPDATE 12:12 p.m.: There is a power outage around Creek Road that stretches from East Alexander to north of Route 63. More than 400 customers are without power. The Dodgeson Road outage now effects more than 300 customers.  There are a handful of lesser power outages throughout the county.
UPDATE 12:20 p.m.: Photo below from Dana Lamb of tree down on power line on Brown Road, Pembroke.
UPDATE 12:39 p.m.: National Grid has or will cut power along York Road and South Street (or a portion of them) so large fallen trees can be removed by county highway crews. Pavilion fire command is informed of this.