July 26, 2011 - 10:02am
Sword-wielding Batavia man holds police at bay for two hours in standoff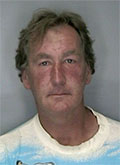 A 52-year-old Batavia man barricaded himself in his residence, claimed to have a hostage and tried attacking deputies with knives and a sword during a standoff on Pine Hollow Drive on Monday.
The incident started at 8:30 p.m. when law enforcement was dispatched to 8 Pine Hollow Drive to deal with a subject who had allegedly threatened to stab two occupants of the residence.
When State Police and Sheriff's Office deputies arrived the suspect barricaded himself in the home and, according to a State Police press release, "threatened police with various cutleries, including a sword."
During the standoff, the suspect, Jody Blaine Gillett, claimed to have a hostage.
At one point, Gillett allegedly lunged at a deputy through a window attempting to stab the deputy.
After about two hours of negotiations, the State Police press release says, Gillett was "forcibly taken into custody."
Gillett was charged with menacing a police officer, criminal possession of a weapon, 3rd, and two count of menacing.
He was arraigned in Town of Batavia Court and jailed on bail of $50,000 cash or $100,000 bond.
There were no reported injuries related to the incident.
Earlier this month, Gillett was arrested on a DWI charge stemming from a rollover accident on Clinton Street Road in February. Gillett was also arrested for alleged DWI in Le Roy in January.
July 26, 2011 - 11:38am
#1
July 26, 2011 - 12:51pm
#2
...Thought John Barrymore was deceased!
July 26, 2011 - 1:40pm
#3
The Sweet Prince was more handsome.