April 25, 2013 - 3:55pm
Team Lawley ready once again for Walk MS event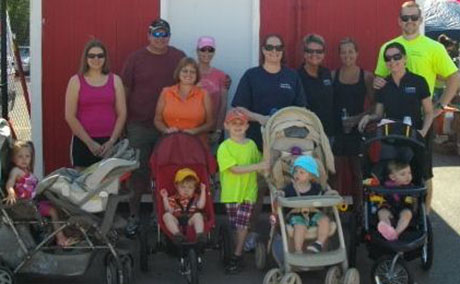 Press release:
At one Batavia insurance agency, when spring rolls around, it's Team Lawley all the way. Staff throws donations into a hat to win vacation days from work, and clients of Lawley Genesee Insurance Agency open their wallets, too, in support of the agency's managing partner, Bill Fritts. Fritts' wife, Theresa, has multiple sclerosis, and each spring for the past five years, just about everyone in the office has participated in Walk MS Batavia, a fundraiser for the National MS Society Upstate New York Chapter.
"Theresa is a very nice person, and it just seemed like a great thing to get involved with once we learned she had MS," said Marissa Weaver, an account manager at the company.
Money raised through Walk MS goes to research to find a cure for the often disabling disease of the central nervous system that affects more than 100 people in Genesee County. Funds also support programs and services for more than 12,800 people living with MS in Upstate New York and their families. This year, Walk MS Batavia is on Sunday, May 5, at Dwyer Stadium starting at 10 a.m.
"Our office enjoys participating in fundraisers and events in the community, so it just seemed natural to want to get involved where it meant something to someone we know," said Weaver, who is captain of Team Lawley, which raised $1,500 last year.
One unique fundraiser they devised is an office raffle – a dollar a ticket – and the winner gets paid time off from work.
"People in the community think it's great," Weaver said. "Our company has several core values and one is community involvement. We are trying to come up with more creative ideas how to fund raise that might be out of the office and more in the community."
The staff puts together baskets to raffle off, that include a mix of lottery tickets and gift cards, and clients generously pitch in to win.
The staff's leader, Fritts, will be among the team's 20 members walking this year.
"It's fun to get out of the office and together with coworkers," Weaver said, "especially for an event like Walk MS. It's most enjoyable on a nice weather day, but we walk through rain or shine." 
And Weaver says Fritts is grateful the whole office has come on board in honor of his wife, supporting her through good weather and bad.