October 13, 2012 - 11:50pm
Thornton receptions help pull down OT win for Notre Dame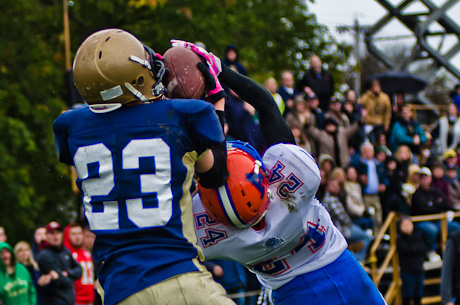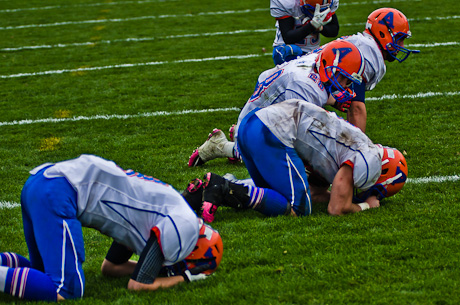 Tim McCulley and Jared Thornton made quite a duo on Saturday, helping to lead the way for a Notre Dame victory over Attica in an overtime game, 32-26.
The quarterback and receiver connected 10 times for 240 yards and four touchdowns.
The two biggest plays came in the fourth quarter and OT.
Down 26-18 with less than three minutes on the clock, Thornton jumped off sides to turn a fourth-and-five into a fourth-and-10.
"I just wanted to make it up to my teammates," Thornton said. "I just tried to make it up best I could."
When the ball was snapped on that fourth-down play, McCulley dropped back and looked for Thornton cutting across the field. He put the ball up and Thornton snagged it.
I just wanted to make the first down," Thornton said. "I caught the ball and somebody hit me, but I just bounced right off him so I just kept going."
The score followed by a two-point conversion knotted the game at 26 apiece.
On its next possession, Attica stalled and with less than 30 seconds on the clock, just let time expire, deciding to roll the dice on OT.
The Blue Devils won first possession of OT and on the first play from scrimmage, QB Austin Skawienski ran a sweep to the far sideline. Attica dodged a bullet when he fumbled the ball was ruled down before the ball sprung loose.
Two plays later, Skawienski tried for a corner end zone pass but Notre Dame's Josh Johnson stepped in front of the ball and pulled it down.
The Irish took possession on the 20-yard line, but before the first snap, a player jumped off sides.
From the 25, McCulley dropped back to pass, Thornton streaked toward the back corner of the end zone, McCulley tossed it high, Thornton jumped, but so did Zach Kozma. Kozma actually got his hands on the ball first, but Thornton pulled it away.
As the players tumbled to the ground, Thornton's helmet popped off, but he held firm to the ball.
TD and a ND win, 32-26.
"He's really good at jump balls, kind of like Calvin Johnson, I guess," McCulley said of Thorton. "I just throw it up there and he goes up to get it."
With the win, Notre Dame secured a first-round home game in sectional play.
"It was a fantastic game," said Head Coach Rick Mancuso. "I thought both teams played their hearts out. It's a shame that anybody had to lose that game. I give all the credit in the world to Attica. They lose the quarterback in the first quarter and they gutted it out and they gave it everything they possible had. We just managed to pull it out in the end. I'm really proud of our guys."
The Irish defense had their hands full with junior running back Matt Perry who carried the ball 27 times for 181 yards and one TD.
"Perry is a workhorse," Mancuso said. "He can take the ball 50 times and be as tough on the last carry as the first carry. He's a heck of running back and they have a great line."
QB Skawienski was 3-6 for 58 yards and one interception for Attica. He replaced Corey Ruddock in the first quarter after Ruddock was transported by Mercy EMS to an area hospital with possible back and leg injuries.
While Attica dominated on the ground -- 287 total yards to Notre Dame's 139, the Irish looked at times like Air Coryell. McCulley was as likely to drop back and look for an open man as he was to hand it off. On the day, the junior QB was 14-22 for 270 yards and the four TD tosses to Thornton.
On the ground, McCulley carried the ball 11 times for 79 yards. Nick Taylor had six carries for 35 yards and Andrew Mullen had six carries for 25 yards.
In those final minutes of the fourth quarter, the situation did look pretty bleak for the Fighting Irish.
After the Blue Devils marched the ball 70 yards down field, and knocking at the door of another TD, Perry coughed the ball up on the one-yard line.
That could have been a turning point for Notre Dame, a chance, down 19-18, to move the ball into scoring position.
After a second-down penalty negated the positive gain of a first-yard play, McCulley ran a bootleg. He never made it out of the end zone. While it appeared that he was trying to pass the ball while being dragged by Jake Dollard, the play was ruled a fumble. Attica recovered the ball in the end zone for a touchdown.
For a lot of teams, that would have been the game right there.
"I just told my guys, a win starts with belief," said senior lineman John Lapple. "If you believe you can win, great things can happen, never go down on yourself. You're always positive and you know what's going on."
On defense, Aaron McDonald and Josh Johnson had nine tackles apiece. Johnson also had the interception. Thornton and Taylor each had 6.5 tackles. Jason Hart and Charlie Hebert had five apiece.
In other football action Saturday:
Elba/Byron Bergen (6-1) crushed University Prep 55-18. Zack DuBois had 271 yards and three TDs on 24 carries. It was his fifth game this year of at least 200 yards on the ground. He finishes the regular season with 1,572 rushing yards and 17 TD. Zac Gillard was 7 for 9 for 160 yards and two touchdowns. He added  26 rushing yards and one TD. Andy Underhill recorded 18 tackles and an interception. Nate Jonathan had 10 tackles.
St. Mary's beat Batavia, 37-14.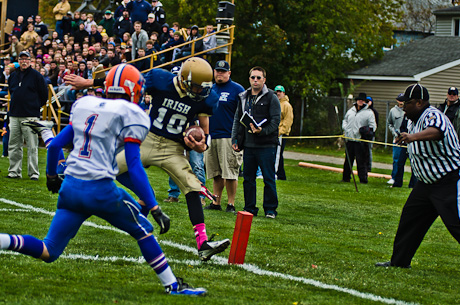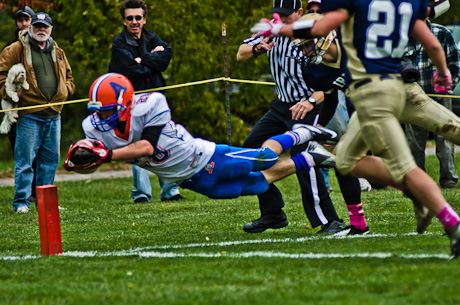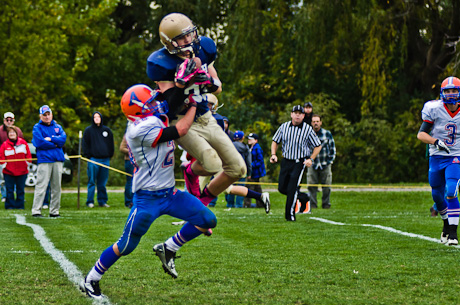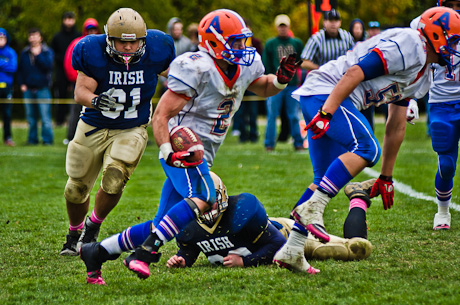 If you're unable to view the slide show below, click here. To purchase prints of these pictures, click here.
October 14, 2012 - 8:44am
#1
October 14, 2012 - 9:25am
#2
Thanks, Steve. I'm pretty pleased with this group of photos.