July 2, 2014 - 4:24pm
Volunteers concerned about dog confined to shelter while owner's legal case drags on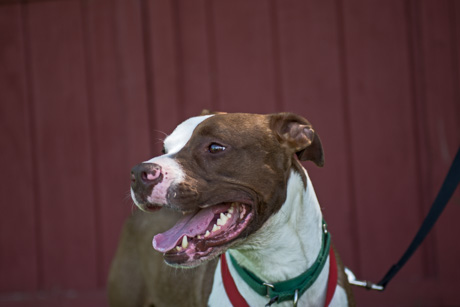 Some of the shelter volunteers call him "Boyfriend," which tells you something about how "Foxer" has won the hearts of the people who care for him every day.
The white and brown pit bull is sweet, kind and gentle and gets along well with the other dogs and people he meets.
The only serious issue for Foxer these days seems to be a question of how much longer he's going to be confined at the Genesee County Animal Shelter.
Officially, he's "evidence." 
Foxer, also known around the shelter as "Skully," is caught in a legal battle between his owner, Nina Kelso, and the government that is prosecuting her for allegedly mistreating him.
Kelso's case has been pending in Batavia City Court since Feb. 4 when she was charged with torturing or injuring an animal; failure to provide sustenance; and owning/harboring an unlicensed dog. 
The 29-year-old Batavia resident had another court appearance scheduled last week, but as with her previous court appearances, her case was continued, so Foxer's fate remains unresolved.
According to Batavia's Animal Control Officer James Sheflin, Kelso won't sign Foxer over to the shelter so he can be adopted, and since Kelso's case is still pending, the shelter has no choice but to keep him confined.
He can't even go to a foster home because he's considered evidence. Until his status changes he has to remain in the supervision and custody of the shelter.
And he's getting a little stir crazy.
During those hours he's confined to his cage, Foxer doesn't do much other than spin in circles. 
"In the kennel I think he gets a little bit of anxiety, but as you can see, as soon as he gets around humans he's happy and ready to go," Sheflin said. "I can't speak to how he was before we got him, whether he had a lot of human contact before, so I don't know if it's a separation-anxiety type thing."
Volunteer Brenda Cromwell said Foxer is walked daily and even gets a car ride from time to time, but still he spends about 23 hours a day in his cage.
Healthwise, he's doing much better. When he first came into the shelter (see picture below), he weighed 49 pounds. Today, he weighs 75 pounds.
He was treated by a vet for gastroenteritis. 
"He is food-obsessed and looks forward, anxiously, to his next meal," Cromwell said.
Another dog brought to the shelter a couple of weeks before Foxer was Nessa, owned by Lauren K. Pellegrino. Pellegrino's case, like Kelso's, is still pending, so Nessa remains confined to the shelter, but has adjusted to shelter life better than Foxer. Nessa displays no anxiety issues, but is as comfortable and happy around people as Foxer.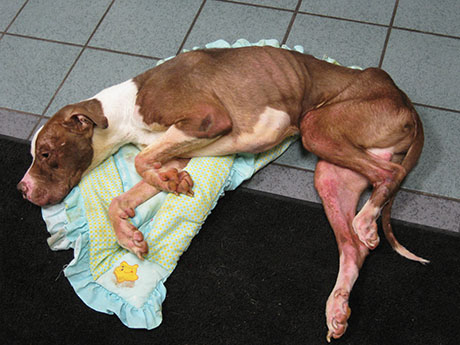 Photo of Foxer taken Feb. 4.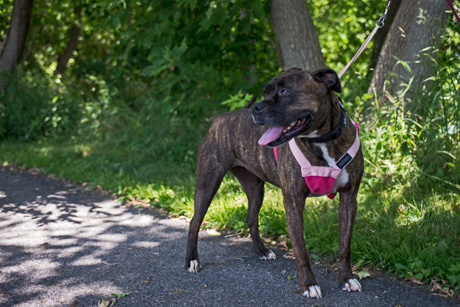 Nessa, above, today, and below, when she was first brought to the shelter.
If he is considered "evidence" does that make Volunteers for Animals a law enforcement agency? What the heck difference does it make if he is detained at the shelter or in a loving foster family?
Someone on the Batavian FB page suggested that the owner be billed for the time the dog spends at the pound. I like that idea. Maybe it would make her allow the dog to be placed in foster care.
Sadly, children are returned all the time to parents who have been abusive, so I doubt this dog will be taken away.
All anyone can do is to watch her if the dog is released back into her custody and report anything that resembles abuse.
Personally, I think she should be charged again since the dog is clearly suffering being stuck at the shelter. She knows from the reports of the staff that the dog is suffering and STILL doesn't make the right choice to let him go to a foster family at least temporarily. Sad and disgusting.