December 26, 2012 - 3:44pm
Weather: Winter storm just over the horizon
posted by
Howard B. Owens
in
weather
.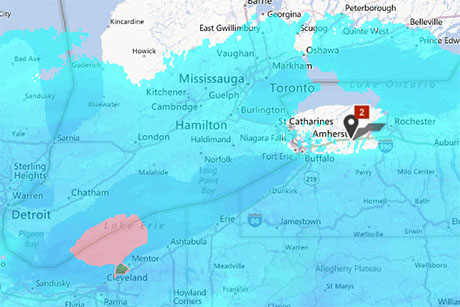 Genesee County is surrounded by one big winter storm.
The National Weather Service predicts the storm will start to hit WNY hard during the afternoon/evening commute. A winter storm warning -- and upgrade from the previous watch -- has been issued for the area.
From six to 12 inches of snow are expected to fall tonight and another one to three inches tomorrow.
Heavy snowfall could start as early as 5 p.m.
Winds will be from the northeast at 20 to 30 mph with visibility less than a quarter mile and whiteout conditions at times.
During the night, snow could fall at a rate of two inches an hour. The heaviest snowfall from this storm may be in the Southern Tier and Finger Lakes region with Batavia seeing only about a foot of snow.
Travel conditions will be difficult, according to the weather service.
In our region, snowfall should taper off by midmorning. Some freezing rain is possible in the afternoon. Weather systems should keep the region colder than average though next week with possible lake effect snowstorms during the period.
December 26, 2012 - 4:45pm
#1
"Oh the weather outside is frightful...."
That was going through my head this morning as I was dragging my trash can to the curb here in North Carolina. Granted, it was 45 degrees, rainy and windy, but earwigs do what earwigs do.
For those of you about to get hit with a foot or so of snow - be careful while shoveling tomorrow. A killer back is NOT the way to start the new year.