May 8, 2014 - 6:40pm
Winter storms caused flooding and property damage for Bethany homeowner on fixed income
posted by
Howard B. Owens
in
Bethany
.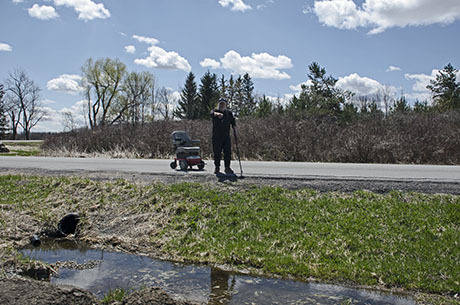 Jerald Shea would sure like the Town of Bethany to do something about the way his property floods and the damage flooding did to his house this winter.
To the degree the town has a position on the issue, it's that the problem wasn't created by the town.
Shea bought his house at the corner of Bethany Center Road and Paradise Road four years ago.
A retired truck driver, he suffered back and neck injuries when his truck was rear-ended while he was driving through North Carolina a few years ago. He was living in a retirement home in Oakfield when he was awarded custody of his teenage granddaughter (since moved from his house), so he used his insurance settlement money and bought the house in Bethany.
What he didn't know or didn't notice was that his property is lower than the parcel on the south side of Paradise Road. That parcel is a bit of a swamp and there's a small culvert under Paradise Road that drains the swamp into Shea's back yard.
He wasn't happy when he figured that out and asked the town for help, but it wasn't a big issue until this winter when frozen ground topped with heavy precipitation caused his yard to fill with two or three feet of water.
The cement foundation of his house raised two or three inches, causing some damage to the building (no known structural damage).  
"I've always had problems with this, but I could live with it," Shea said. "If I had to flush the toilet, I could just use a pail of water if I had to, but now, (geez), I'm telling you. It seems like nobody (cares) because every time I talk to anybody all I get is I'm not going to get involved because of politics. What the hell is so big about this town that they've got to be afraid of politics?"
There's evidence of the exterior of the house being damaged along the north exterior wall, with faux brick popping off in places. The paneling in a back room has warped and some of it has popped off, exposing framing and insulation. His septic system is damaged, he said, and muddy, dirty water backs up into his bathtub.
Shea always had problems with his yard filling with water, but his house was largely undamaged from flooding until this winter.
The town is in a bit of a transition right now. Supervisor Louis Gayton died April 14 and that has left things a bit unsettled.
In fact, Shea believes Gayton promised him two days before he died that the town would fill in his back yard and make it less susceptible to flooding. 
Town Highway Superintendent Paul Fleming said he doesn't see the town giving Shea dirt and rock for his yard. That just isn't something towns do.
As far as Fleming knows, the culvert under Paradise Road has been there for 50 years, and probably a lot longer. 
The problems Shea is having with his property aren't from "anything abnormal the town did," Fleming said.
Fleming said years ago the property wasn't residential. It was a mechanic's shop. Some of the structures on the property could be more than 100 years old.
In our short talk today, he wasn't really sure what if anything the town should or could do for Shea.
Shea said he's on fixed income -- $1,000 a month -- and though his home is paid for, he doesn't have the means to move or fix the damage that's been done.
"I didn't know about this when I bought the house or things would have been very different," Shea said.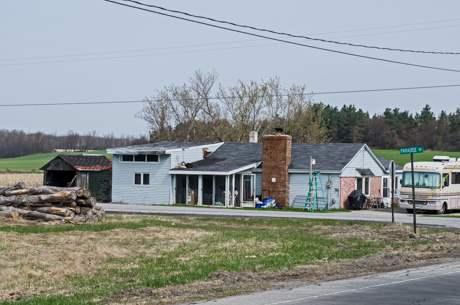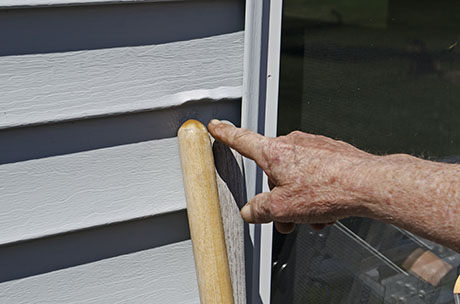 When the foundation of the house rose, the siding of the house pushed down on a pair of yard tools Shea had leaning against the house, causing small indents in the siding.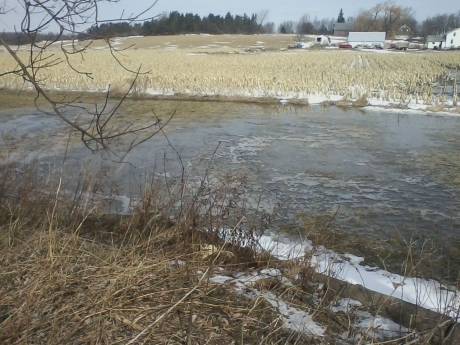 Photo provided Jerald Shea he took in February showing a portion of his back yard flooded.
Add him to the list, our neighbors across the street from us front yards get so flooded from the spring drain offs that they have ruts about a food deep from driving in their driveways and one actually has their driveway caving in. Complaints and calls go nowhere. It was understood that something was supposed to be done I want to say three years ago but the answer to inquiries is that the funding has gone to other places to take care of it. I actually also think that this is a county issue, not a town issue, since the county is the ones responsible for the care and tending of the drainage on the sides of the Bethany Center Road.
If I am wrong please feel free to correct me anyone.