April 21, 2014 - 1:13pm
Workers begin repair work on culvert that collapsed under man and his two children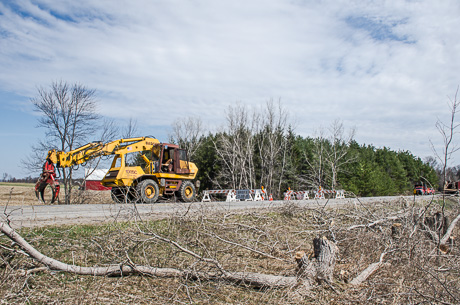 The culvert that collapsed Saturday under a Byron resident and his two children while out on a bike ride was scheduled to be replaced this summer, said County Highway Superintendent Tim Hens.
"I don't think any of us realized how bad it was in terms of being rotted out," Hens said. "We did a visual inspection, but I wasn't going to crawl into a two-foot pipe, but you can never tell without getting in there. The middle was in a lot worse shape than we thought."
Byron-Batavia Road between Griswold Road and Walkers Corners Road will be closed for two weeks while the culvert is replaced.
The cost of the replacement is approximately $50,000.
"Mother nature and time beat us to the punch," Hens said.
The husband of Korinne Haymon, who contacted The Batavian about the incident, said her husband and their two children were on a Saturday afternoon bike ride when the culvert gave out from under them. 
Mr. Haymon was pulling a bike carrier with their 4-year-old and 7-year-old riding along when he decided to stop out of curiosity and look at a small hole by the side of the road. It was about the size of a groundhog hole.
As soon as he put his foot down, the ground gave way.
The 7-year-old was able to jump over the hole "like Superman," Korinne said.
As soon as he realized the 4-year-old had fallen to the bottom of the hole, Mr. Haymon jumped to the bottom and he was able to lift the child over his head and push him out of the hole. He yelled for the child to move away from the hole. Then he pulled the bike and carrier the rest of the way into the hold and use it like a ladder to climb out.
"He said every time he grabbed earth, it was just crumbling," Korinne said. "They were hysterical, like screaming."
Outside of some cuts and scrapes, nobody was injured.
"He was petrified," Korinne said. "He said he just keeps playing it over in his head but I told him to just focus on everybody is all right."
The children are doing fine, Korinne said.
"They just laugh about how my oldest Supermanned over the hole," she said.
Hens said in his 16 years this is only the second culvert to collapse. The other one was in Darien in 1998 or 1999 and rain helped wash out a sinkhole.
"Most of the time we're ahead of the game in identifying (culverts for replacement)," Hens said. "We wait for a dry time to check on them. It's unusual for them to collapse like that and just from a visual inspection point of view, we have ones that are way worse. It's an odd combination of weather, timing, cold weather -- all of that plays into it."